World Cup 2014: England fans urged to prepare thoroughly for Brazil trip
Brazil 2014 could and should be a brilliant country to host a World Cup, but don't just turn up - plan your trip and do your homework, writes Sky Sports reporter Geraint Hughes.
By Geraint Hughes
Last Updated: 07/12/13 1:38pm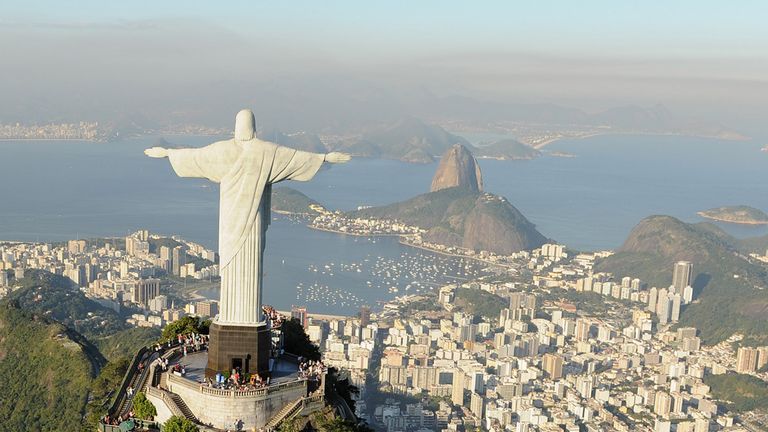 One thing England always bring to tournament football is a good following from supporters. It's never really mattered whether it's been a European World Cup; in Japan in 2002, England were well supported, as they were four years ago in South Africa.
Depending on how the wind blows, flying from the UK to either Rio or Sao Paulo takes between 11 to 12 hours. Unfortunately, you can't fly direct from the UK to Manaus where England play Italy on June 14.
The bad news is that if you arrive in Rio and are catching an internal flight to Manaus, you'll be on another plane for the best part of five hours. Manaus is a long, long way away. Brazil is a very big country! Plan your trip. Get into Brazil well before the first match to allow time to catch your breath.
That's not just my advice, that's exactly what travel expert Simon Calder is saying. Plan your trip to Brazil. He can't stress that more and he should know!
So what's flying like in Brazil? Well, they're used to it. You can't really get from city to city without getting on a plane, as the distances are just too vast. The airports are used to lots of people, although I'm not saying they're organised paradises - they certainly are not. However, domestic flights are normally relatively punctual and pretty easy to figure out.
Cost is something I can't help you with. Last summer, when I was lucky enough to fly around Brazil following the Confederations Cup, the cost of internal flights wasn't too bad. However, the World Cup always brings a 'fans tax' - and there is a lot of talk that internal flights could well be expensive next summer.
Manaus is therefore a bit of a pain to get to, but once that game is over - and if you're a fan who has some money left to burn - then Rio is a good place to base yourself.
England's next Group D match is in Sao Paulo against Uruguay, which is a 45-minute flight from Rio, and then the final game is against Costa Rica in Belo Horizonte, which is about an hour and 15 minutes away by plane from Rio.
Roy Hodgson and the FA have a logical base in Brazil, having selected Rio some months ago. From a fan's point of view, if you are intending to try and watch all three of England's group matches, then Rio is a base worth great consideration.
So getting around Brazil involves great distances, and with England playing Italy in Manaus, there is no getting away from the fact that it's just a long way. However the games in Sao Paulo and Belo Horizonte - both cities close to Rio - should be viewed as a bonus. It could have been a lot worse!
While travelling around Brazil, security will be a big issue and one not to be ignored. There are many types of police in Brazil, from local to regional to military - and none of them have a great tolerance for any nonsense.
The police will also be on high alert, not necessarily for a terrorist attack as Brazil has no history of this (although a World Cup is a high-profile global event, so anti-terrorist planning will be part of the organisation of the tournament) but because there is a high expectation that protests will become a feature of Brazil 2014.
During the Confederations Cup last June and July, millions of Brazilians took to the streets of several cities to voice their annoyance at their government. One of the issues was the cost of staging the World Cup; the people of Brazil were far from happy, as many other social issues deserved the money instead of FIFA's showpiece.
However, the protests throughout Brazil tended to always end in the same way - fairly violently. The police, when given orders to disperse either peaceful protesters or anarchists causing damage, were brutal.
Tear gas, baton charges and rubber bullets are little match for a cardboard placard. And if you think a bit of tear gas won't hurt you - yes, it will. I got a taste of the stuff in Rio last June when 500,000 were protesting when the police decided enough was enough, and fired canister after canister into the crowds.
It's horrible. Within seconds, you cough and your eyes itch and burn. 24 hours later, my throat was still sore. Avoid protests at all costs; the British Embassy and consulates throughout Brazil know their stuff and will advise you that if any crowds form to protest, walk away quickly.
Away from protests, in the big cities be sensible. You'll hear countless stories of muggings and theft; this will happen. It happens in London, Manchester and Newcastle regularly. Brazil is no different, so take precautions.
Don't go wandering into a favela on your own or in the dark, you're asking for trouble. Do your own research. If you want to visit a favela go to a 'pacified' favela, that's one where the drug lords have been moved out by the police and there is a degree of safety, but it's all about being sensible and knowing where to go.
Brazil 2014 could and should be a brilliant country to host a World Cup, but don't just turn up - plan your trip and be prepared.