World Cup 2014: Arsenal winger Alex Oxlade-Chamberlain eyes England squad for Brazil
Arsenal winger Alex Oxlade-Chamberlain is eyeing up a place in England's World Cup squad upon his recovery from injury.
Last Updated: 08/12/13 2:20pm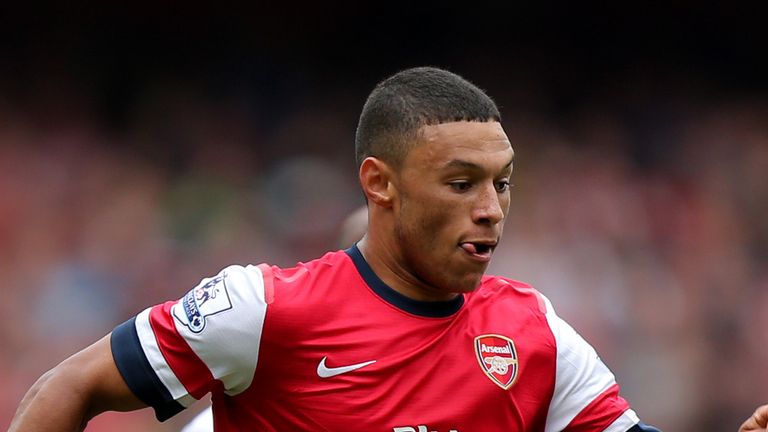 The 20-year-old has been sidelined since the opening day of the Premier League season, having suffered a knee injury in August's 3-1 defeat at home to Aston Villa.
Oxlade-Chamberlain found the net in England's 2-2 draw with Brazil in June, and he says that the experience of playing in the Maracana Stadium has given him an incentive to make Roy Hodgson's squad next summer.
"It was a real eye-opener to see how much they love football in Brazil," he told the Sunday Express.
"You hear about that - but it's not until you see it first-hand how they live and breathe football and play on the beach that you really understand.
"Scoring the goal for 1-1 at the Maracana last summer, having come on as a substitute, is a great memory.
"It was the inspiration for the whole team and for me personally to play there. Everybody wants to be in a World Cup in Brazil.
"The prospect of doing that is a motivation for me and I have to believe I can get there.
"First I have to focus on getting back into the Arsenal team and playing to a level that warrants being picked for England. I have to get my groove back, as they say."
Oxlade-Chamberlain was also positive about England's future prospects, saying that playing regular football is the key to their development.
"We have a lot of good young English talent coming through academies and it's important they get an opportunity to play," he said.
"There would be a big benefit to the national side in the future by giving young England players a chance.
"I have been involved in England set-ups since the under-18s and have seen some great talent. I remember playing with Ravel Morrison and Ross Barkley, and now you can see them proving it week in, week out in the Premier League.
"There are a lot of players like that coming through the system, like Andros Townsend, and if they get an opportunity in first teams, you will see a lot more.
"The earlier you get boys like Andros, Ross and myself in and around the England squad, then three or four years down the line, players will be relaxed and comfortable in the environment and playing with so much fluency in the international game."