Labour court halts construction work on section of Manaus World Cup stadium after fatal fall
A labour court in Manaus has stopped construction in a part of the World Cup stadium where a man fell to his death.
Last Updated: 16/12/13 9:39am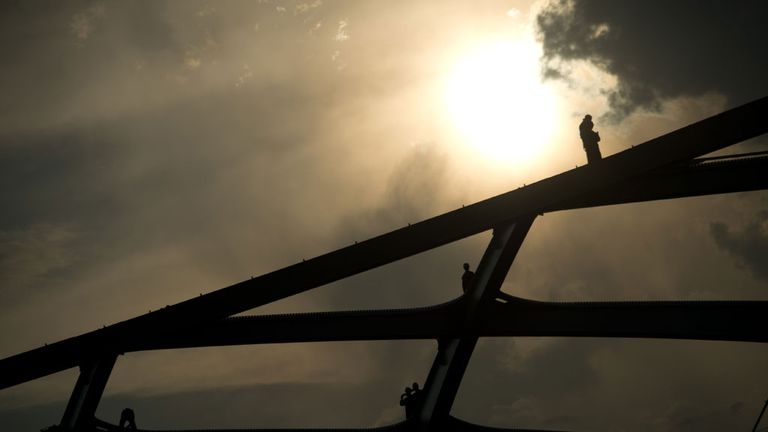 Marcleudo de Melo Ferreira, 22, slipped 115 feet from the roof of the Arena Amazonia in the jungle city where England will play their World Cup opener against Italy in June.
A few hours later, a second worker, Jose Antonio da Silva Nascimento, died of a heart attack while paving an area outside the site's convention centre, amid claims he had been overworked.
Unions in Brazil have been threatening to strike over inadequate working conditions but work will now only restart after constructors can show sufficient safety measures are in place.
Constructors will also be fined a daily amount if they fail to abide by the decision.
The state's public prosecutor's office had said there remained "serious problems" at the venue regarding safety for those working high above the ground.
It pleaded for all "necessary measures to prevent serious and imminent risk" to worker safety, including ensuring scaffolding was properly fixed after identifying irregularities.
"The public prosecutor's office cannot allow the urgency of finishing a construction for the 2014 World Cup to be taken care of at the cost of the life and well-being of those working on it."
Construction at the stadium had been increased with workers operating in three shifts for all but four hours a day in a bid to ensure the stadium did not slip further behind schedule.
In all, five workers have died during the construction of the World Cup stadiums in Brazil.
Three weeks ago two workers were killed when a crane fell onto the Arena Corinthians which is due to host the opening match of the tournament in Sao Paolo.