World Cup: Croatia defender Josip Simunic banned for 10 games by FIFA
Croatia's Josip Simunic has been banned from the World Cup after FIFA found him guilty of chanting a pro-Nazi slogan.
Last Updated: 16/12/13 7:52pm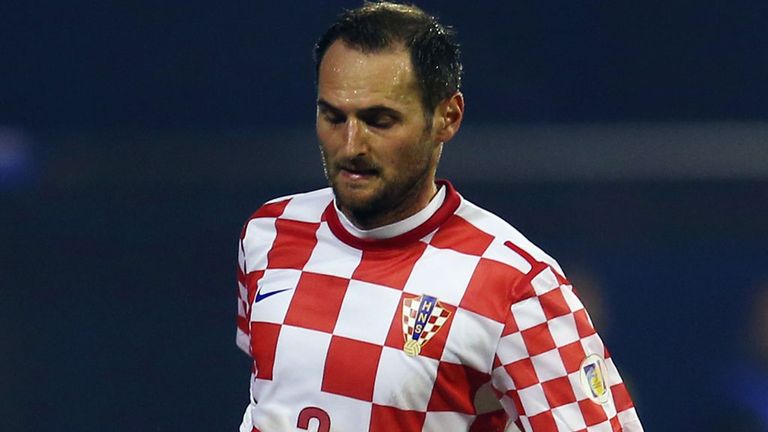 Simunic took the microphone in the aftermath of last month's 2-0 play-off win over Iceland and addressed the crowd with a cry of: "For the people."
That phrase has links with the pro-Nazi regime which ruled Croatia during World War II, and the defender's impassioned denial of any wrongdoing failed to spare him a FIFA charge.
FIFA has now concluded its investigations, and Simunic has been suspended for 10 games - starting with his country's first game in Brazil next summer.
The 35-year-old - capped more than 100 times by his country - has also been banned from attending any of those 10 matches and fined around £20,000.
FIFA explained the severity of the sanction in a statement on its website which read: "The resolution on the fight against racism and discrimination, which was approved in May 2013, advocates the need for strict punishments to send out a strong message that discrimination has no place in the game."
At the time of the incident, Simunic insisted there was no political motivation for his actions.
He said: "The thought that anyone could associate me with any form of hatred or violence terrifies me."
The ban was branded "draconian" by Croatia Football Federation (HNS) executive chairman Damir Vrbanovic, who said the HNS would support an appeal but was already planning for a World Cup without the 105-times capped Simunic, whose international career could now be over.
Following the announcement of the ban, Vrbanovic suggested Simunic was being made an example of in order to send a message to others.
"We are shocked by the decision of FIFA with regard to penalties for Simunic, which endangers the player's representative career," he said in a statement on the HNS website.
"We will give our full support to our team members in the likely appeal of this decision, but we must be honest and admit that this sentence means that Simunic will not be able to participate in the World Cup in Brazil.
"Although we know that through his behaviour he did not want to hurt anybody, FIFA is obviously hoping that such a draconian penalty sends a strong message."
Croatia coach Niko Kovac added: "I was unpleasantly surprised, shocked and disappointed by FIFA's punishment for Josip Simunic. I am primarily sorry for Josip, who will miss the World Cup. I have known him for a long time as a player and as a man, and I am absolutely sure that in no way did he want to hurt anyone."
Croatia striker Mario Mandzukic, meanwhile, will miss the World Cup's opening game against Brazil after he was banned for one match for a red card against Iceland.
The HNS said it had been fined 70,000 Swiss francs (£48,300) in relation to the two incidents.