FA chairman Greg Dyke has no regrets over World Cup draw gesture
FA chairman Greg Dyke says he has no regrets over the cut-throat gesture he made following England's World Cup draw.
Last Updated: 19/12/13 10:48am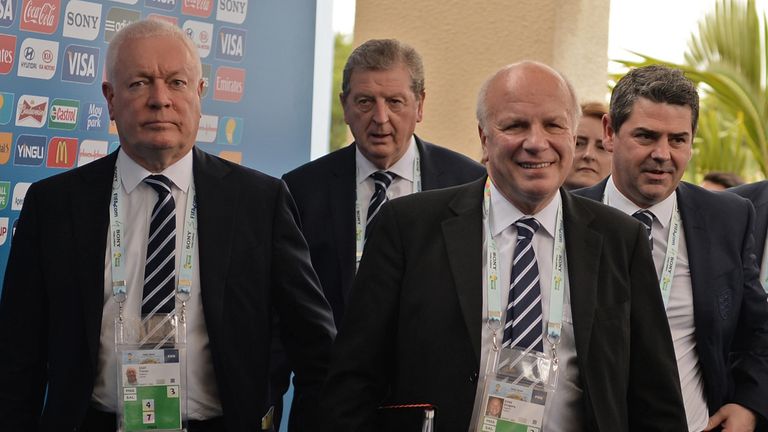 The 66-year-old was present in Brazil earlier this month as England were drawn in a group along with Italy, Uruguay and Costa Rica for next year's tournament in the South American country.
He courted controversy when he was pictured making his gesture in response to what he perceives to be a tough challenge for Roy Hodgson's side, who will face Italy, Uruguay and Costa Rica in Group D.
When asked if he regretted the action, Dyke responded: "Oh no, it was a piece of humour. That is me. If you want a straight-laced suit you can have one.
"It was an instant reaction. Interestingly the amount of football fans who have come up to me and said they think I am a proper football fan because you felt like we did."
Uruguay (6th) and Italy (7th) are both ranked higher than England (13th) in the FIFA world rankings but Dyke is confident Hodgson's side can make it to the knock-out stages.
"It is quite a difficult draw. That doesn't mean we are not going to get through. Actually, I think we will get through. But it is a tough draw and I think we need to recognise that.
"If you can get out of the group you are four games from winning. It could happen. Nobody is going to say we are one of the favourites and we shouldn't kid ourselves but we have got a chance.
As part of his responsibilities with the FA, Dyke has been part of a commission that have been meeting regularly to discuss ways to improve the national team's fortunes.
The commission will meet again on Thursday and Dyke believes they are making progress.
"We've taken a lot of evidence from people right across the game," he told Sky Sports News.
"We asked three questions: how did we get here, what could be done about it and what are the chances of that happening?
"I think we know how we got here and now were coming up to some interesting things about what could be done. We will be publishing those in the spring.
"I don't think there is one single magic trick. It will be a series of things right across football from grassroots up to the professional game that need to be changed so we can encourage more English kids to get through into the top level."