2014 World Cup: Italy coach Cesare Prandelli claims "We can beat the best"
Italy boss Cesare Prandelli admits they may not be the best ahead of the World Cup, but claims they can "beat the best".
By Nadia Carminati
Last Updated: 30/12/13 2:56pm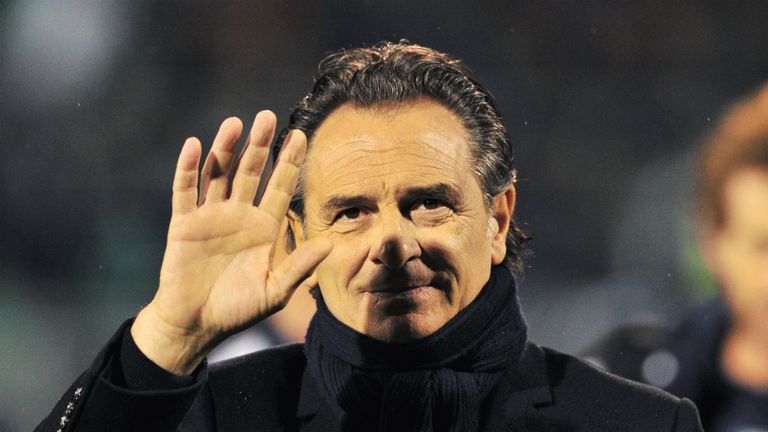 The four-time World Cup winners are grouped with previous winners England and Uruguay as well as seven-times Copa Centroamericana champions Costa Rica.
After recording an unbeaten record through their 10-match qualification campaign, Italy failed to win a game at the 2010 World Cup in South Africa, which saw them bow out at the earliest possible stage.
Italy were again unbeaten during qualification for Brazil, winning six and drawing four of their outings, and Prandelli understands his side face a stern challenge if they are to negotiate their way through the group stages.
"Our one is a really difficult group, with three national teams who have been world champion," he told Gazzetta dello Sport.
"The first aim is to qualify, probably as first of the group. Against England we have played a sensational game at the 2012 European Championship, but we didn't score and we qualified at penalties.
"Against Uruguay we suffered in the second half of the final for the third place at the Confederations Cup and we won again at penalties.
"Anyone talks about Costa Rica, but I've started studying them. The World Cup has already started."
Despite Italy currently sitting seventh in the FIFA rankings, Prandelli believes his squad have the strength to oust any team on their day.
Favourites
"Brazil, Argentina, Germany and Spain are the favourites," he claimed. "Let's leave from our mind that we are the strongest; we aren't.
"We are no more the best but we can beat the best."
There have been calls within the Italian media for AC Milan forward Mario Balotelli, who has eight goals in his 17 top flight appearances, to partner Serie A top scorer Giuseppe Rossi (14) and Prandelli praised the qualities of both strikers.
"Rossi plays in a really good way with his team-mates. Balotelli played his best games with a striker close to him," he added.
"Balotelli must be stronger when he is faced with provocations; big players are seen at the World Cup. Mario will have the occasion to show himself the way he is, a champion."
With an wealth of talent to select from in Serie A, and around Europe, Prandelli aims to assemble a provisional squad in April before making his final selections.
"I'll do the most important call-ups in April, when I'll call for about 30-35 players," he said. "From that group there will be the 23 who will play the World Cup."
Prandelli's term as manager of the Italian side is due to end following the World Cup, but the 56-year-old plans to meet head of the Italian Football Federation, Giancarlo Abete before the tournament begins.
"In March I'll meet president Giancarlo Abete and we will talk about what it will be," he added.
"I've said that for a national team coach four years are the right time, and I conform it, but there is nothing decided yet. And for the moment I haven't got calls, contacts or proposals."