Worker killed in accident at World Cup venue in Manaus
A worker has been killed in an accident outside the World Cup Stadium in Manaus.
By Paulo Freitas
Last Updated: 07/02/14 9:29pm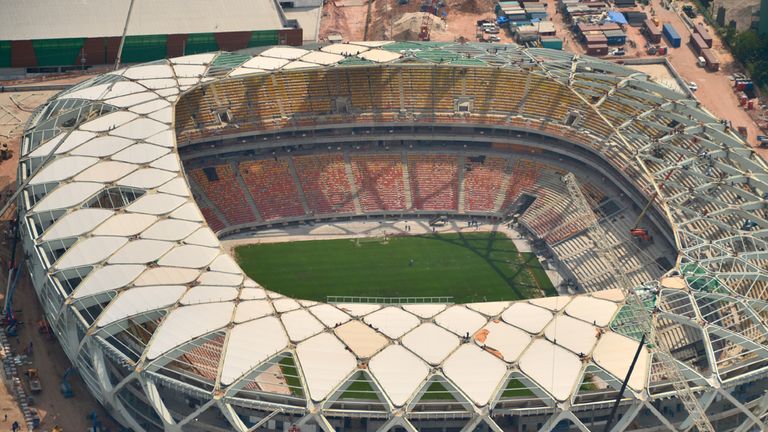 Organizers in charge of the city's preparations said the worker died Friday while dismantling a crane that was used to install the roof of the Arena da Amazonia
Spokesman Eric Gamboa confirmed the worker's death, which is the third linked to the stadium's construction.
In December, a worker at the Arena da Amazonia died after falling 115 feet (35 meters) while working on the stadium roof. Another worker died there in March after falling from a scaffold and hitting his head.
The stadium is due to host four World Cup matches this summer, including England vs. Italy and the United States vs. Portugal.
The civil construction workers union in the state of Amazonas say the Arena da Amazonia workers will go on strike on Monday.
The union's president Cicero Custodio told Lancenet when asked about going on strike on Monday: "What makes us sad is that we noticed they aren't really worried about the workers, we'll only be back to work when the authorities sit down to talk with us."
FIFA's general secretary Jerome Valcke posted on Twitter: "FIFA deeply regret the death of the worker who was disassembling a crane used in the construction of the roof of the Arena Amazonia.
"With great sadness we send our sincere condolences to the family, on behalf of both FIFA and the Local Organising Committee."
Brazil's preparations for the finals have been mired in tragedy. Two workers were killed when a crane collapsed on them at the Itaquerao Stadium in Sao Paulo in November.