World Cup 2014: FIFA approve Curitiba stadium for this summer's finals
FIFA have given the thumbs-up for Curitiba to host four matches scheduled for this summer's World Cup finals in Brazil.
Last Updated: 19/02/14 8:44am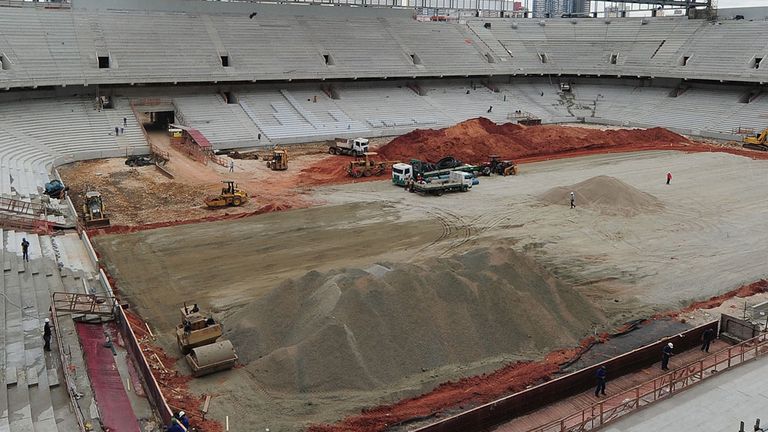 There had been concern that renovation work to be carried out at the stadium in the city would not be completed in time but, following a number of inspections and meetings, FIFA have given their approval for the games to go ahead.
World football's governing body are confident that the work still required would be finished ahead of staging its first match on June 16.
FIFA general secretary Jerome Valcke said: "It is essential that the works are maintained at the required levels and that a collective effort by all the stakeholders involved in Curitiba continues.
"It a race against a very tight timeline and will require regular monitoring, but we are counting on the commitment made by the Atletico Paranaense, the city and the state of Curitiba.
"Work will intensify, with a minimum of 1,500 workers on-site, to a level where the completion can certainly be envisaged for mid-May."
Luis Fernandes, Brazil's deputy sports minister, added: "We are very pleased that the agreed-on three measures plan is working out and that all parties involved in Curitiba are now working inone rhythm and in the right direction.
"It is great to see the significant progress made since our last visit. It's a city which lives and breathes football."
The Arena da Baixada, also known as the historic Estadio Joaquim Americo, was originally built in 1914.
The home ground of Atletico Paranaense, the stadium will hold just over 40,000 spectators when full.
Curitiba is the second most southerly location of the 12 cities chosen for this year's finals tournament.
Matches due to be held in Curitiba, are: Iran v Nigeria (June 16); Honduras v Ecuador (June 20); Australia v Spain (June 23); Algeria v Russia (June 26).