Begovic Q&A
Bosnia and Herzegovina's story will be one of the most interesting at this summer's World Cup. They have overcome war-torn adversary to reach their first ever finals. Sky Sports spoke exclusively to their goalkeeper, Stoke City's Asmir Begovic, as the countdown to Brazil continues...
By Pete Hall - Follow me on Twitter @PeteHall86
Last Updated: 27/02/14 11:37am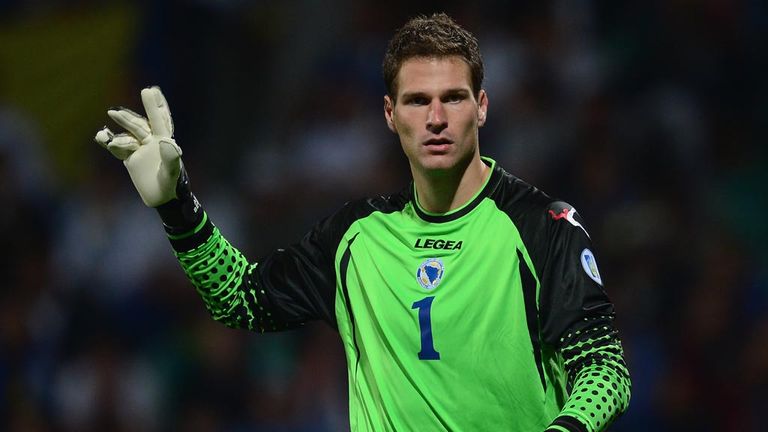 Sometimes it is not always easy to switch allegiances but when that switch heralds a World Cup appearance within five years, it makes the decision all the more justified.
Having represented Canada at youth level, Asmir Begovic seemed set on a long international career with his adopted country, having fled Bosnia at an early age with his family after the outbreak of war.
However, the 26-year-old made a dramatic U-turn while plying his trade at then-Premier League side Portsmouth, and pledged his allegiance to the nation of his birth.
Many of the squad had the same dilemma, having similarly escaped the horror of the Bosnia conflict in 1992-95 but after also choosing to represent the war-ravaged Balkan state, this 'golden generation' has given hope to the long-suffering people of Bosnia and Herzegovina that better times lay ahead.
The football-mad nation thought their time would never come after play-off heartache at the hands of Portugal twice in quick succession - in qualification for the 2010 World Cup and Euro 2012.
Nonetheless, the embryonic country finally gave their fervent following what they had been waiting so long for, and in the most emphatic fashion imaginable.
Thirty goals, 25 points and just one defeat on the way to automatic qualification for Brazil's showpiece World Cup this summer sparked unprecedented scenes in the capital, Sarajevo, after qualification was secured with victory over Lithuania, and finally gave the long-suffering Bosnians something to smile about.
The pain his people had to endure throughout the conflict is not lost on Begovic and, as Sky Sports found out, the Stoke City goalkeeper is proud of his roots and feels this World Cup's only debutants have the talent to turn a few heads this summer.
Asmir, you escaped the conflict with your family like many of the squad, and grew up in Canada. Was it difficult to pledge your allegiance to your homeland having already represented Canada at youth level?
"It was a difficult decision having built a relationship with Canada before, as you get to know people and make a connection, but when the opportunity came to represent the country of my birth, knowing it would mean a lot to my family, overall it was the best decision. From a personal point of view, as a family man it made sense but also from a footballing perspective it made sense - playing against better opposition and higher profile matches than I would have done with Canada would improve me as a player, so the whole package suited me better with Bosnia."
What did qualifying for Brazil mean to people back home who have been through so much in recent times?
"It meant everything to people back home after so many years of hurt and pain. It put a smile on everyone's face, gave them a positive outlook on life and to have something great happen to Bosnia, which hasn't really happened before, was a proud moment for everyone, and to bring that was the ultimate motivation throughout the qualification campaign."
With the squad having such a diverse football upbringing, has it actually benefitted the squad to have such a variety of styles?
"I think so. When players grow up in different environments they pick up different things from different places they play in, and develop. Maybe that's why we have such a good team now. There is a bunch of quality players involved who are from different cultures but and the end of the day we have the same goals and that helped the identity of the side."
Is this very much a 'golden generation' in Bosnian football with so many players at high-profile European clubs?
"I would say so. We have been given that label back in Bosnia, and up-to-date this is the best group of players that has come through. The goal now is to push on from here, and hopefully qualifying for the World Cup puts Bosnia on the map, helps the local game progress, and brings more players through."
Has coach Safet Susic been the difference between the nearly men of two play-off defeats by Portugal and World Cup qualification? What has he done differently?
"One of the main things he does is he is a calming influence on the squad. We have been through some difficult times before but those near misses were a learning curve for us all and we have moved on. He gives us the confidence to play and makes sure all the players are comfortable in what they are trying to do, and overall that makes for a good environment, and he has been a big part of that."
Could you have imagined that Bosnia would have been so prolific in their qualifying campaign, and can you take that confidence in front of goal to Brazil?
"Well, to be honest, I do believe in the quality we have, and we have some very good attacking players. Edin Dzeko and Vedad Ibisevic are two of the best forwards in Europe. Thankfully they were both able to stay fit throughout the whole of the qualifying campaign, which helped us out a lot. We had to make sure that we had the balance and were solid at the back, too but if we can score more than our opponents then that obviously works better for us."
For those who are not familiar with your squad, who are the potential Bosnian stars of the World Cup?
"Our whole team is good! There is obviously Edin Dzeko who is one of our star players, Stuttgart's Vedad Ibisevic, who has the potential to have a great World Cup, but I suppose our main player for now and certainly one for the future is Miralem Pjanic, who plays for Roma. I am sure a lot of people know about him by now but he is still very young and has a lot to learn. He is certainly one to watch out for."
What are your hopes for Brazil? What are your chances of progression? How do you feel you will cope with the climate of Latin America?
"It is our first major tournament, so we are going to try and enjoy ourselves and make the most of the whole experience. On the other hand, we want to go and give a good impression of ourselves, get results and progress out of our group. Our group is as tough as any other one, but if we stick together as a group we can achieve something. The conditions are going to be the same for everyone. We will have three or four weeks out there to prepare, so should be fine."