Diego Maradona says Lionel Messi does not need a World Cup medal to be great
Diego Maradona says Lionel Messi does not need a World Cup medal to prove he is one of football's all-time greats.
Last Updated: 04/03/14 11:04pm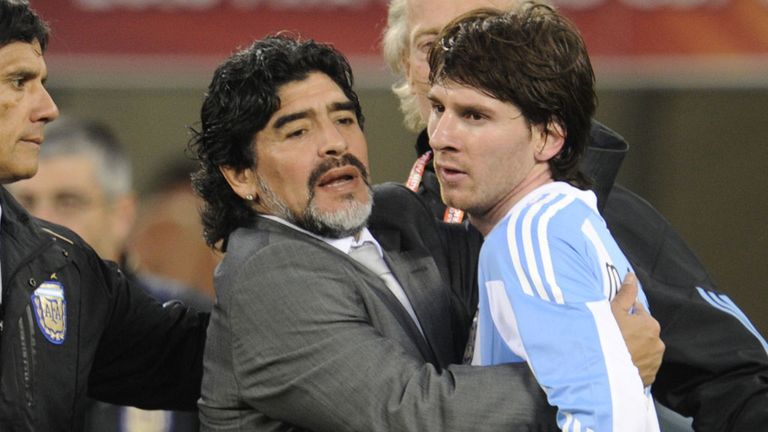 Maradona, who skippered Argentina to victory in 1986, believes Messi's position in history is assured regardless of whether his country capture the trophy in Brazil this summer or not.
Maradona coached Argentina four years ago when they were beaten at the quarter-final stage by Germany, with Messi a leading member of the squad.
And the 53-year-old Maradona said: "Messi doesn't need to win the World Cup to be the best player in the world.
"It would be great for Argentina, the fans and for him, but winning a World Cup or not won't take away any of his achievements up to now to be among the greatest."
Speaking about his experiences in South Africa in 2010, Maradona added: "Messi had an exceptional World Cup with me and no-one said so."
Back then, Maradona says Messi was distraught following their defeat by Germany in the last eight: "I approached him and told him he'd have many World Cups to get revenge.
"I said it with all my heart. While the rest were thinking about our return home he was there, head bowed, crying."
As for this year's tournament, Maradona went on: "There's Spain, Germany and there's Brazil with a tremendous defence.
"You think of Brazil's defence and six or seven names come to mind, you think of their attack and there's only Neymar.
"For Messi, it will be a test of character, to bring out all that crying he has in his heart. Brazil can be his great revenge."