FIFA may have to rerun the bidding process for the 2022 World Cup, says an MP
FIFA must rerun the 2022 World Cup bidding process if allegations of corruption are proven, an MP has told Sky Sports.
Last Updated: 18/03/14 3:50pm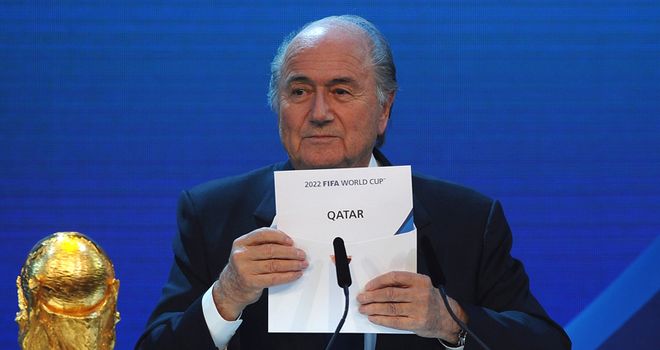 A report in the Daily Telegraph has claimed that Jack Warner, the former FIFA vice-president, and his family were paid almost $2million (£1.2million) from a Qatari firm linked to the country's successful bid for the 2022 World Cup.
A spokesman for the Qatar 2022 World Cup committee has insisted they "strictly adhered to FIFA's bidding regulations".
However, the FBI are reportedly investigating the allegations and MP Damian Collins told Sky Sports News that the bidding process must be rerun if the allegations are proven.
"If these allegations are proven, if the FBI, whose investigation it is, can come forward with the evidence, I don't think that FIFA have any choice," he told Sky Sports.
"If there was corruption involved in the voting process, and the exchange of money linked to votes, how on earth could they just ignore that and let the competition go ahead without any kind of rerun."
Warner and his family were allegedly paid more than £1million by a Qatari company which was owned by Mohammed Bin Hammam, who was given a life ban in 2012 by the governing body following allegations of conflicts of interest" during his time as head of football in Asia.
Some of those payments were allegedly made after Qatar won the right to host the 2022 World Cup.
Extremely serious
"It is extremely serious," said Collins, who was on the Culture, Media and Sport select committee 2010-12.
"The allegations suggest that two of the most senior people in football - one very closely associated with the Qatari bid and the head of football in Asia [Mohammed Bin Hammam] and another man, Jack Warner, who was the head of football in the Americas may have been involved in an exchange of money that was linked to the voting process that awarded Qatar the World Cup.
"So it is very serious for them and I think that it compromises the whole Qatar World Cup for 2022."
Half of the 22 FIFA members who voted for Qatar to host the 2022 World Cup have now left the organisation. And Collins insisted that FIFA have lost any credibility in their ability to investigate the bidding process around the 2022 World Cup.
No confidence
"I don't have any confidence in Sepp Blatter's ability or desire to do that [investigate the allegations]," said Collins.
"Here we are two years after these allegations around people like Jack Warner and Mohammed Bin Hammam first broke. We are seeing new evidence, not being produced by FIFA but being produced by a national organisation like the FBI.
"They [FIFA] need to bring in independent people who can go anywhere, look at anything, and there has to be a new code for the executive committee, where their commercial interests inside and outside of football, and that of their family members, need to be publicly known."
He added: "For FIFA to be respected as an institution around the world, they would have to look again at the process to award the competition to Qatar.
"And sadly I think this whole episode, and these new allegations, will just confirm what many people believe, that the decision to give the World Cup to Qatar was based on money and not on the interests of sport."