World Cup: Tottenham winger Andros Townsend determined to rediscover form for Brazil
Tottenham winger Andros Townsend has vowed to rediscover his form from earlier this season in time for the World Cup.
Last Updated: 18/04/14 2:57pm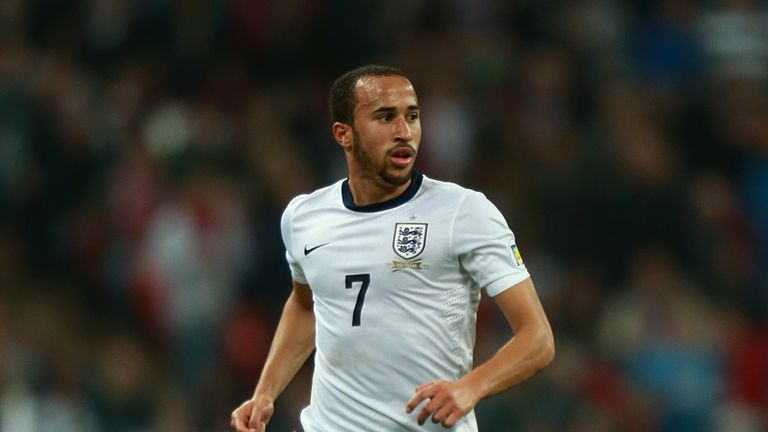 The 22-year-old produced inspired performances in qualifying victories over Montenegro and Poland in October, earning several plaudits as England secured their ticket to this summer's World Cup in Brazil.
More remarkable were his achievements when taking into account they were his first two matches on the international stage, but his season was stunted by a hamstring injury in December.
However, Townsend is eager to make up for his time on the sidelines and return to form for Tottenham in a bid to catch the attention of Roy Hodgson, who will reveal his provisional 23-man squad on May 10.
"I want what happened to me at the qualifiers to be the start of something," he told the London Evening Standard.
"Nobody wants to be a one-hit wonder. It's all about longevity and I want more opportunities to play for England, especially at the World Cup.
"It would mean the world to me to go to Brazil. Every boy in the country dreams of playing at a World Cup and I'm no different.
"Those final qualifiers were an unbelievable few days for me. It came at a time where I feared no one. I knew I'd go on the pitch and play well in every single match."
Townsend will face stiff competition from Liverpool's Raheem Sterling and Arsenal winger Alex Oxlade-Chamberlain when it comes to making Hodgson's cut and the Spurs midfielder revealed his appreciation of his compatriots.
Admiration
"I have a lot of respect and admiration for them," he said. "We're good friends and have talked about the World Cup a bit. I'm pleased that they're doing well. Raheem has been on fire for Liverpool and Ox has been playing well for Arsenal.
"It improves the competition and it has made me a better player. I know I need to up my game to stay in contention for a place.
"No matter what happens, I will still regard this as my best season. It was the one where I broke through at Tottenham and played for my country."
Townsend insists plying his trade in the Premier League against some of the world's leading players stood him in good stead when called to the international stage.
"People asked me what got me in that mindset," he said. "It was because of the start I had made to the season.
"I was playing for Spurs against big teams and players, playing well and keeping big names out of the team.
"At the time I felt invincible and it helped when I got the call from England. I could just show what I'd been doing since the start of the season. It's the level where I want to get back to now."
The Spurs attacker admits the pain of injury was not just physical, but remains determined to bounce back and show his fighting spirit.
"It hit me hard when I suffered the injury," he revealed. "I was down for a few weeks but the positive I took was I had played a lot of football in the first few months and this was a chance to have a rest.
"It also meant I could see what I'd done well and not so well. I could study where I could become a better player and be even stronger.
"It's how you come back that counts and these last few games is where I aim to really bounce back."