World Cup 2014: FIFA sorrow over latest stadium worker fatality
FIFA has announced that a man has died while working on the construction of a World Cup stadium in Brazil.
Last Updated: 09/05/14 8:12am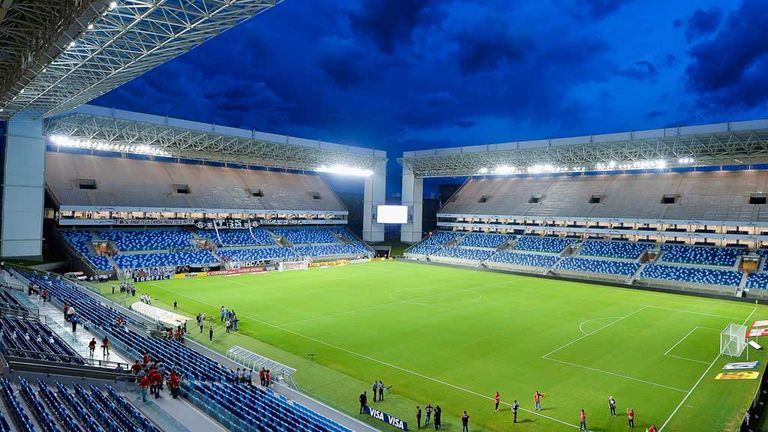 Officials have confirmed that a 32-year-old was killed after receiving an electric shock at the Arena Pantanal venue in Cuiaba.
Emergency services chief Rosenil Moraes revealed that Muhammad Ali Maciel Afonso was pronounced dead after efforts from paramedics to revive him were unsuccessful.
"Our workers followed all the protocols and tried to revive him for more than 40 minutes. But he didn't survive," said Moraes.
Afonso was an employee for Etel Engineering, the company responsible for the installation of information and communication networks at the stadium.
The arena, which is scheduled to stage four group matches in this summer's showpiece, is nearing completion with the final seats set to be installed this week.
Local authorities are investigating the cause of the fatality, which is the eighth during the construction of all venues for the tournament.
FIFA general secretary Jerome Valcke wrote on Twitter: "Saddened by the death of worker Muhammad'Ali Maciel Afonso at Arena Pantanal. My thoughts are with his family and colleagues."
Meanwhile, the Brazilian president has backed the new stadium in Sao Paulo to leave a lasting a legacy - despite transportation work in the city not expected to be completed before the start of the tournament.
The Arena Corinthians will host the opening game of the tournament when Brazil take on Croatia on 12 June - but Dilma Rousseff saw first hand how work inside the stadium was still on-going.
There are concerns that a bus terminal between the stadium and the nearest train station will not be ready in time, but the president - who was presented with a gold hard hat - hopes the redevelopment will have a lasting impact in one of Sao Paulo's poorest regions.
For the last week hundreds of families have been occupying a vacant plot of land less than three miles from the stadium, in protest to the Arena Corinthians being built.
Brazil's Landless Workers Movement claim the development is forcing low-income families out of the city.