David Cameron waits on July report into 2018 and 2022 World Cup bidding processes
Prime Minister David Cameron says it is for an imminent report to determine whether the 2022 bidding process was flawed.
Last Updated: 02/06/14 4:52pm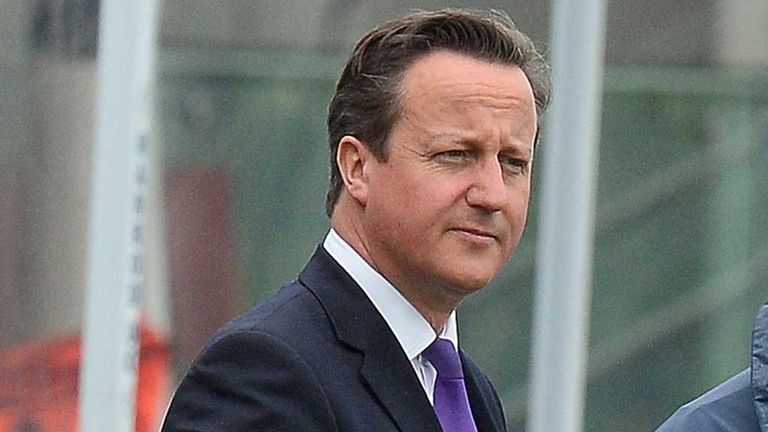 Qatar's status as host nation in 2022 is under renewed scrutiny in the wake of a Sunday Times report alleging payments were made to secure support for their successful campaign.
Former FIFA executive committee member Mohamed Bin Hammam is alleged to have made the payments, although Qatar officials deny any wrongdoing and say Bin Hammam played no role in their bid.
The 2018 vote was conducted at the same time - England were one of those who lost out to Russia - and American lawyer Michael Garcia is due to complete his full investigation into both bidding processes within the next fortnight.
Garcia's report will follow in mid-July and Cameron, asked to comment on the latest developments, said: "There is an inquiry under way quite rightly into what happened in terms of the World Cup bid for 2022. I think we should let that inquiry take place rather than prejudge it.
"My memories of that bidding process are, as I've said earlier, not happy ones in terms of the way the whole thing was arranged and the role of FIFA and the rest of it. Let's let the inquiry take place.
"As for the future of the World Cup in 2018, generally speaking we should try to keep sport and politics separated.
"I think we should use that as a rule. In extremis there are occasions - Zimbabwe, obviously South Africa - there are occasions where it is right to not take part in a sporting occasion but on the whole we should try and keep them separate."
Garcia has already spoken to the team behind Qatar's bid and says he remains on course to complete his investigations on June 9 despite the Sunday Times article.
He said in a statement: "After months of interviewing witnesses and gathering materials, we intend to complete that phase of our investigation by June 9, 2014, and to submit a report to the adjudicatory chamber approximately six weeks thereafter.
"The report will consider all evidence potentially related to the bidding process, including evidence collected from prior investigations."
Simon Chadwick, Professor of Sport and Business at Coventry University, believes FIFA must examine its own role in the scandal and feels Qatar will resist any attempts to take the 2022 World Cup away from them
"My view is that this is a situation very much of FIFA's own making and I'm not pointing the finger at any one individual in particular," Chadwick told Sky Sports News.
"In this particular case Qatar and the 2022 World Cup are in the spotlight but there is a much broader issue here around FIFA, the way that it's governed and obviously around cases of corruption.
"The fact that Garcia is involved in the first place is a reflection of some of the fairly serious misdemeanours that have been going on at FIFA.
"I think it is very important for the Qataris to play a straight bat with this and be as open and as honest as possible.
"I think for FIFA as an organisation they are now going to have to get themselves out of a very difficult spot.
"On the one hand if they play the World Cup in Qatar in 2022 there are people across the world, other potential host nations, journalists and football officials who will say this is the wrong thing to do.
"At the same time on the opposite side of the coin if they take it away from Qatar then I'm pretty sure the Qataris will fight against it because they genuinely believe they fought and won it on merit alone."