Liverpool striker Luis Suarez has matured and evolved, says Uruguay coach Oscar Tabarez
Uruguay coach Oscar Tabarez has hailed the maturity and "evolution" of striker Luis Suarez over the years.
Last Updated: 05/06/14 11:33am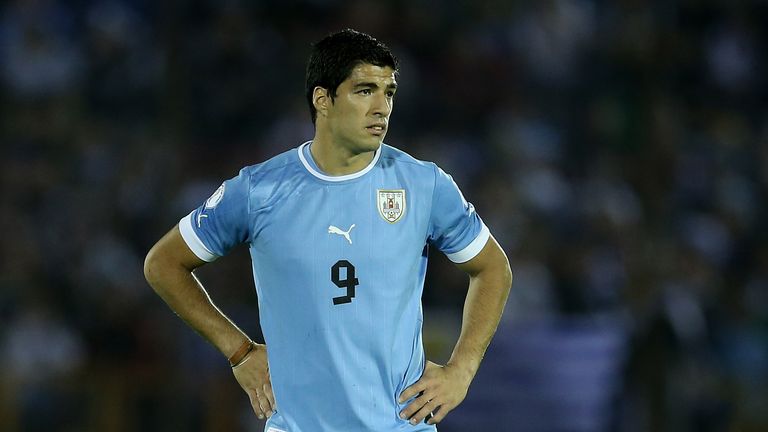 The 27-year-old is set to be a key player for the South American nation at the World Cup in Brazil, provided he recovers in time from minor knee surgery.
Suarez is considered as one of the best forwards in world football and played an integral role in Liverpool's second-place finish in the Premier League this season.
The former Ajax striker, who joined the Merseyside outfit in January 2011, scored 31 goals and provided 12 assists in 33 league matches and won the PFA Player of the Year award.
The Salto native will be crucial for Uruguay in Brazil just as he was for La Celeste four years ago in South Africa when they reached the semi-finals.
Suarez has been embroiled in controversies during his time in England, but Tabarez insists that the former Nacional striker has matured and become more responsible over the years.
Evolved
"He's evolved, and he now does that [gets in behind] ever more frequently and with less mistakes," he told The Daily Telegraph.
"That's always been his intention on the pitch. Then you have his personality: obstinate, stubborn in achieving what he wants.
"The metaphor that I use is a ladder that always gets stuck one step up from the last opportunity. Now, I see him at the peak age for a footballer.
"I think, through the years, he has matured. He's learnt a lot from the things he's been through and now he sums up the philosophy that I've brought here: the importance of the youth process and its contribution to the first team.
"He's won a lot of plaudits, but also responsibility, which he bears perfectly well. He knows that Liverpool expect a lot from him and he always lives up to it.
"Think about losing the ball. The player has to make the right decision: he's not only been a goalscorer in the Premier League, but the number of assists demonstrates his evolution and his understanding of the game.
"But here, we don't put any special responsibility on him."
Hodgson
Uruguay have been drawn against England, Italy and Costa Rica in Group D in Brazil, and Tabarez insists that the Three Lions cannot be taken lightly
The 67-year-old also speaks highly of his English counterpart Roy Hodgson, having been in charge of AC Milan while Hodgson was the coach of their rivals Inter Milan in the mid-1990s.
"We know England - the players, the manager," said Tabarez, "He was at Inter when I was at Milan, and we saw each other in Florianopolis, for a coaching seminar.
"He is affable, kind, a gentleman, but also a manager with tremendous experience. I am sure he will do well.
"We just have to go there with a clear mind, extremely prepared, keeping a low profile, and not talking about what might happen in the future. But if we get through that group, we'll be stronger for it."