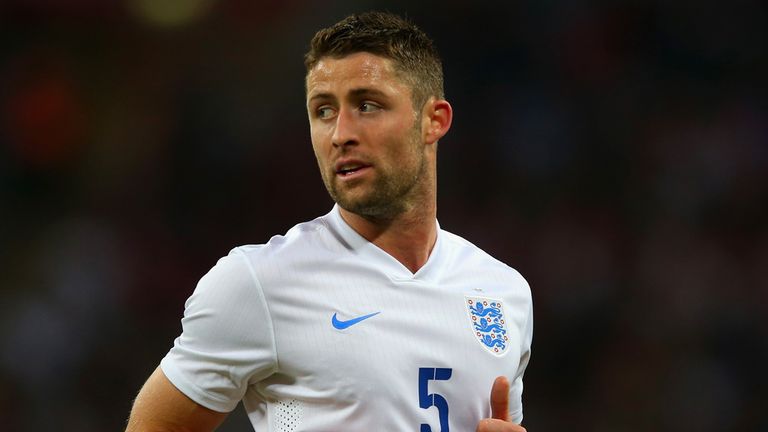 Gary Cahill hopes Premier League experience of facing the likes of Luis Suarez and Mario Balotelli will aid England's World Cup cause.
The Chelsea defender is set to come up against both fearsome frontmen during the group stage of this summer's tournament in Brazil.
First up will be Italy and Balotelli on Saturday, with the former Manchester City striker expected to lead the line for the Azzurri either on his own or alongside in-form Ciro Immobile.
Next they must tackle Uruguay and prolific Liverpool marksman Suarez, who is expected to recover from knee surgery in time to play a prominent role.
Cahill has faced both before at club level and believes inside knowledge of the threat they will pose could work in England's favour as they endeavour to negotiate their way into the knockout phase.
He said in the Daily Mirror: "I've played against Balotelli and Suarez and some of the other strikers we'll be facing and that helps, certainly.
It's new for me to go into a tournament with my national team and something I've really wanted to do in my career. Now I've got the opportunity, I intend to take it.
Gary Cahill
"When you're talking about the key players, the dangerous players, to be aware of them and what they do always helps.
"If you come up against someone who you've never played against before and know nothing about, sometimes that can surprise you.
"So to know these players is good. And to respect the quality of these players is good as well. I've played against both of them."
On how he has fared in the past, Cahill added: "I don't want to jinx it, but it's been alright so far.
"You've got to respect that we're talking about quality players. To know a little bit about their game certainly helps you and I'm taking that into the games."
Cahill believes England have all of the right pieces in place to deliver on the grandest of stages this summer, from those charged with generating results on the field through to a vastly-experienced manager at the helm.
He said of Roy Hodgson: "I respect the England manager and the ones who've had the job in the past, because it's a hard job.
"We talk about players and the expectations on us but for the whole season he's been asked the same questions – who's in and out of form, who is he going to pick?
"Maybe it's a release for him now he's out here.
"The gaffer prepares the team really, really well, with the coaches.
"You put your tactics out. No stone is unturned. We analyse the teams and the players we're up against.
"I appreciate the fact that once the team is picked and you go out there, it's down to the players to deliver. And we have to deliver ourselves.
"It's new for me to go into a tournament with my national team and something I've really wanted to do in my career. Now I've got the opportunity, I intend to take it."