World Cup: Italy goalkeeper Gianluigi Buffon could return against Costa Rica
Last Updated: 16/06/14 1:22pm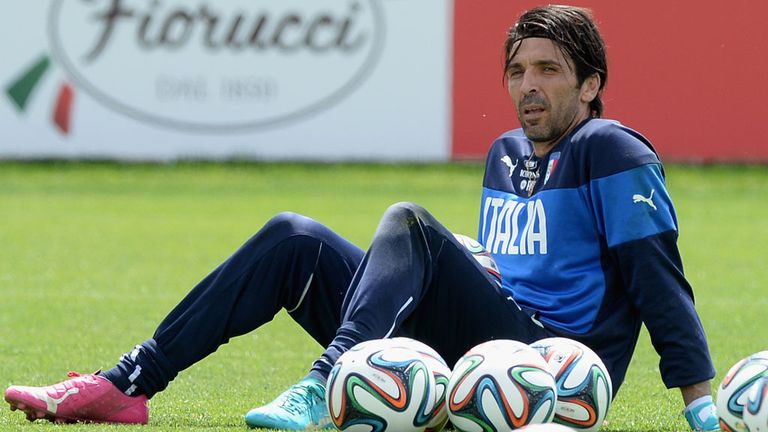 Italy are waiting to discover if goalkeeper Gianluigi Buffon and defender Mattia De Sciglio will return from injury for Friday's World Cup Group D match against Costa Rica.
Both players missed Italy's 2-1 win over England in Manaus on Saturday, with Salvatore Sirigu replacing Buffon in goal.
The Juventus man twisted his left ankle in the build-up to the game, while De Sciglio was ruled out with a calf strain.
"Gigi has had a specific trauma, which is not your usual sprained ankle," Italy's team doctor Enrico Castellacci said. "It has affected the knee but, fortunately, the knee ligament is fine.
"His condition will be evaluated. He is having specific therapy and we will decide whether or not to do some X-rays.
"We will try to have him available as soon as possible. We are optimistic that he will have a speedy recovery but his health comes first.
"I cannot say if he will be able to make it for the game against Costa Rica. After the injury, Buffon told me he was relieved because for a moment he feared he may have to miss the World Cup."
On De Sciglio, Castellacci said: "There is no date yet for his return. Right now he is not in a condition to train with the rest of the squad because you cannot take risks when dealing with muscular injuries.
"Mattia was also concerned he might miss the World Cup but once he was reassured that he could play in Brazil, he smiled again."
Castellacci wants FIFA to allow time-outs for players to drink water in Italy's next two games, which both kick off at 1pm local time.
Neither side were allowed any drinks breaks in Saturday's game against England, with the heat and humidity affecting the players.
"It would have been good to have had a three-minute time-out during that game," Castellacci said. "Fortunately, we prepared well and none of our players had cramps.
"I hope that in Recife and Natal (the cities where Italy will play their next two games), where the conditions will be no better than in Manaus because of the times the games are scheduled for, FIFA will reconsider.
"The criteria is that if the temperature is 32 degrees Celsius or above then the time-out is almost automatic.
"However, what they don't consider is that with humidity above 70 to 80 per cent, it feels three or four degrees warmer.
"With those conditions and in these type of games, one can lose two litres of sweat."