World Cup: FIFA refuses to comment on possible match-fixing probe involving Cameroon
Last Updated: 02/07/14 9:34am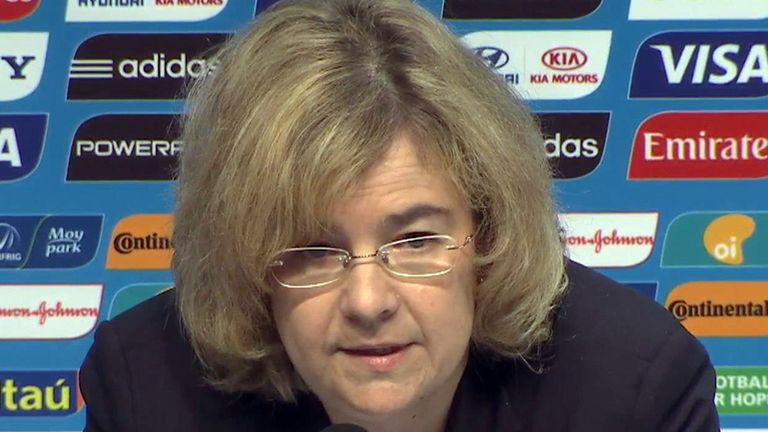 FIFA has refused to comment on whether or not an investigation is under way into allegations that Cameroon have been involved in match-fixing at the current World Cup.
The African nation's football federation announced on Tuesday that it was investigating claims of fraud that may have occured during their Group A game against Croatia in Manaus on Wednesday June 18.
The investigation was launched following allegations attributed to convicted match-fixer Wilson Raj Perumal in a German magazine.
FIFA spokesperson Delia Fischer told the media that president Sepp Blatter has been informed of the allegations but refused to say whether or not the world governing body has, or would, investigate the claims.
"We do not provide any comment as to whether or not an investigation is underway with regards to any manipulation of matches," she said.
"The FIFA disciplinary code and code of ethics both say that only after a decision has been taken by the FIFA disciplinary commission or the ethics committee, and all parties concerned notified first, would FIFA be in a position to communicate that decision publically.
"Generally speaking, the integrity of the game is FIFA's top priority and we take allegations of match-fixing very seriously.
"FIFA continues to work closely with law enforcement agencies on a national, regional and global level to tackle match manipulation."
The allegations levelled at Cameroon were said to have originated in a Facebook conversation between Perumal and German journalist Rafael Buschmann of magazine Der Spiegel.
It was suggested that Perumal had accurately predicted the 4-0 scoreline and that a Cameroon player would be sent-off in the first half - midfielder Alex Song was red-carded just before half-time.
However, Perumal has released a statement through the Daily Telegraph saying he did not predict the result of the game, that he made no references to the score and that the conversation with Buschmann took place after the match.
The statement read: "Contrary to the 'revelations' published by the German weekly Der Spiegel that were picked up by news outlets worldwide, I did not predict the result of the Cameroon vs Croatia match played on June 18, 2014.
"The Facebook chat with the Der Spiegel journalist took place a few days after the match – June 21st, as confirmed by my Facebook log – and was but an informal assessment of the behaviour of the Cameroon team at the Brazil 2014 World Cup after they had played two of their three group stage matches, including the one with Croatia.
"At no time did I make reference to four goals being scored or to a red card being issued. At no time did I suggest that I had any way of corroborating or substantiating what was meant to be an educated guess based on my extensive match-fixing experience. Last but not least: at no time was I informed by the Der Spiegel journalist that our chat was going to end up in the German publication.
"I am shocked and amazed that a respected magazine such as Der Spiegel would go so far as to fabricate statements by yours truly with the visible aim of stirring the row over match-fixing.
"I apologise to the Cameroon FA and to its fans if I inadvertently offended them; it was not my intention. I strongly believe that Der Spiegel should also do the same since they placed words in my mouth that I did not utter."
Sky Sports News' reporter Kaveh Solhekol also revealed that Perumal has reportedly been predicting the scores of World Cup games throughout the tournament, with an overwhelming amount of his assumptions turning out to be wrong.
Solhekol also reports that sources close to Song say the Barcelona player knows nothing about match-fixing whatsoever and, due to his well-paid position at the Catalan club, he is not the kind of player who would look to receive a red card as part of a match-fixing scandal.
Sources at officially registered betting exchanges also say that no suspicious betting patterns emerged for the game between Croatia and Cameroon, although there was a significant amount of money put on an own goal being scored, which did not transpire.