World Cup: Angel di Maria and Javier Mascherano praise Argentina's win over Switzerland
By Paulo Freitas
Last Updated: 02/07/14 11:55am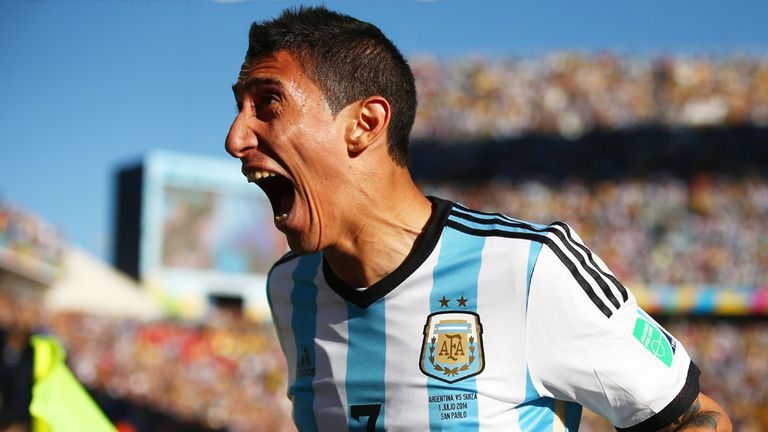 Angel di Maria felt Argentina did not 'get desperate' during the last-gasp victory over Switzerland in the last 16 of the World Cup.
Tuesday's game in Sao Paulo appeared to be heading for a penalty shoot-out until Di Maria curled a low shot beyond Switzerland goalkeeper Diego Benaglio with two minutes of extra-time remaining.
Argentina will now face Belgium in the third quarter-final in Brasilia on Saturday, and match-winner Di Maria believes his side deserved to go through.
"We gave our lives, our souls on the pitch, we didn't get desperate," Di Maria told Closs.
"It wasn't me, the heroes are 23 players and the technical staff. We always tried to play, we just made one mistake in the first half that allowed a one-on-one with (keeper Sergio) 'Chiquito' Romero.
"The win is more than well deserved, we made a great effort."
Lionel Messi admitted in the post-match press conference that he feared Argentina were about to crash out until Di Maria popped up with the vital goal at the Arena Corinthians.
"I was nervous towards the end because we couldn't score and any mistake could have knocked us out," the Argentina captain said.
I was nervous towards the end because we couldn't score and any mistake could have knocked us out.
Lionel Messi
"The minutes were passing by and we didn't want the match to go to penalties.
"We were suffering, but we had a special play, I passed to Angel and now we can celebrate."
Argentina coach Alejandro Sabella was grateful to advance and will now prepare his team for Saturday's quarter-final in Brasilia.
Sabella said: "Luckily, we were able to win the game in extra-time. Switzerland were on top in the first half, then it was us.
"Now we have to rest up and prepare for the next game.
"We do not look beyond that. To do so would be a mistake as we have already seen good teams like Spain, Uruguay, Italy and England have gone out."
Midfielder Javier Mascherano added: "We played the whole of the second half in our opponents' half of the pitch.
"We couldn't score but, after pressing so much, Messi and Di Maria showed up."
You'll be able to watch Angel di Maria, Lionel Messi and Javier Mascherano in Champions League action next season on Sky Sports 5 - the new home of European football.