World Cup: Holland keeper Tim Krul will continue with penalty shoot-out antics
Last Updated: 07/07/14 9:30pm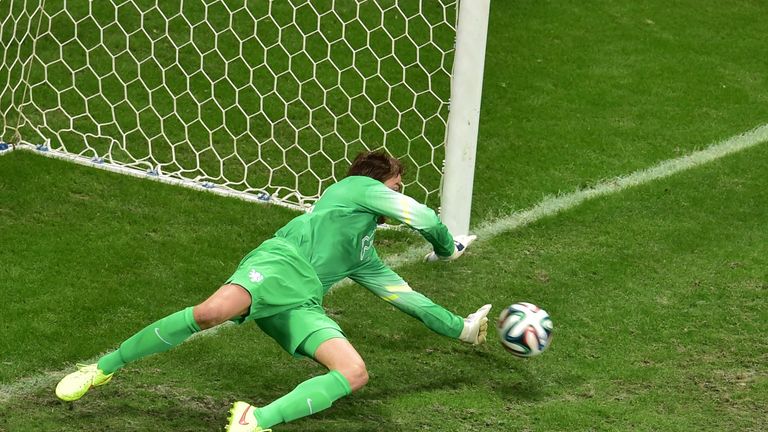 Holland goalkeeper Tim Krul is happy to keep on winding up opponents if he gets a second World Cup penalty shoot-out chance.
The Newcastle No.1 caused controversy with his antics in the 4-3 win over Costa Rica in the quarter-finals on Saturday, when he spoke to every penalty taker as they prepared to take their kick in a bid to psyche them out.
He was criticised for actions 'not in the spirit of the game' but Krul has defended his actions and will not hesitate to do the same again if given the chance by manager Louis Van Gaal, who brought him on with seconds left in the last-eight clash.
"I don't think I did anything wrong," Krul said.
"I did nothing crazy. I didn't shout in an aggressive manner. I told them I knew where they were going because I had analysed it.
"I was trying to get in their heads and it worked because I saved two penalties.
"It is a good way of psyching (penalty takers) out and I am happy to do it again.
"We will analyse every Argentina penalty on Monday. We will sit together and write up a plan."
Meanwhile, Ajax goalkeeper Jasper Cillessen, who was replaced by Krul, has apologised for kicking over a water bottle on the sidelines after he was substituted, soaking team-mate Bruno Martins Indi in the process.
"I want to apologise. I've already done to Frans Hoek (Holland's goalkeeping coach) and I will do so to the whole squad. I knew nothing about this. The change was a shock to my system," he said.
"I was a bit angry. I wanted to play and play the penalty shoot-out. I was angry, and went out. I kicked the water bottle - Bruno was feeling warm so I did it to cool him down.
"It is a pity I wasn't told, but it worked very well. He made two saves."