England cricketer Ian Bell picks his Aston Villa #One2Eleven
Ashes star and England batsman Ian Bell selects his ultimate Aston Villa XI for The Fantasy Football Club.
Last Updated: 22/11/13 6:32pm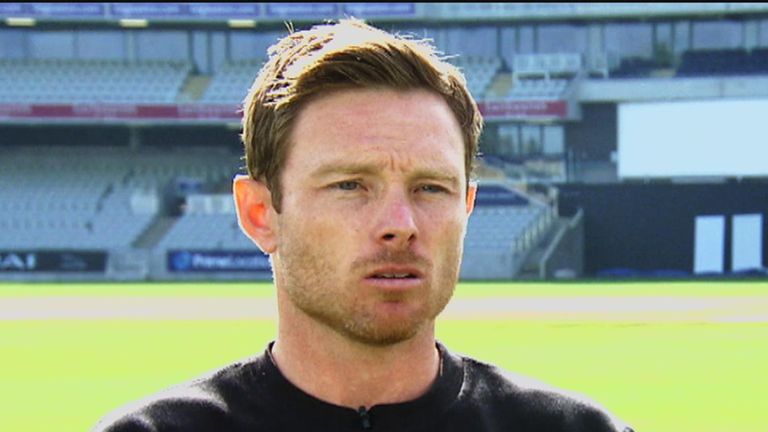 But England batsman Ian Bell, a lifelong Aston Villa fan, took some time out to tell The Fantasy Football Club his ultimate #One2Eleven...
Goalkeeper: Nigel Spink
I'm going for a 4-4-2 formation and in goal I'm going to have Spink. I have memories from the year I was born with those saves he made in the European Cup. You look at them now and they're still brilliant saves, so he'd have to go down as a Villa legend and have to be in my goalkeeper. It's hard to leave out Brad Friedel, Mark Bosnich and David James - we've had some really good keepers over the years at Villa - but Spink would have to go down as my number one.
Defenders: Olof Mellberg, Paul McGrath, Martin Laursen and Alan Wright
At right-back I'd have to have Mellberg; yes, he's probably a centre-half by trade but he's quite flexible. A Villa legend again, the crowd loved him and he was a great player to watch as well as a leader of men.
In the middle I'd have McGrath, who is probably the number one Villa hero of all time. I think they still sing his song at Villa Park, an absolute legend and a good pro who knew how to deal with his injuries and still get on the park and a leader of men again at the back and in control of situations.
Martin Laursen, as well. Watching him play he always knew how to control situations and I thought those two would be pretty good together in the middle.
At left-back it would be Alan Wright. Watching him, he was a little fella with plenty of energy and no nonsense. I enjoyed watching him play because he kept things simple with that energy.
Midfield: Tony Daley, Gordon Cowans, Gareth Barry and Gabby Agbonlahor
Tony Daley was my hero growing up; 1989 was a really big year for me supporting Villa because we came second in the league under Graham Taylor. Daley had that pace and evey time he got the ball you just felt something was going to happen.
In the middle I'll put Cowans. Through that team and longer as well he's a real Villa legend and still at the club now helping the youngsters come through. Watching him on the ball and the way he used to pass it proved he was a great player.
I've gone for Barry in middle, it was going to be Paul Merson but I see Paul as an Arsenal legend, but Barry for me was one player I never wanted to see leave Villa. You watch him play even now at Everton and he controls the game, is great at passing, has a brilliant left-foot. I thought he was quality during his time at Villa.
On the left wing I've put Agbonlahor. A local lad from round the corner who is still at Villa and it's rare to see guys that come through these days and stay with one club and fingers crossed he can do just that. He's been captain from time-to-time and when he's on that left-wing with just absolute pace you can feel when he gets the ball the whole ground takes notice and it's good to have that kind of pace in the team.
It was difficult to leave out the likes of James Milner and Ashley Young, who were guys who probably weren't at the club long enough for me to put in the team if I'm honest. But in particular someone like Milner is very similar to Gareth Barry I suppose, everytime I watched him for Villa he very rarely had a bad game, great professional with non-stop running and the fans were pretty sad to see him go.
Forwards: Gary Shaw and Christian Benteke
My two strikers are going to get me a lot of goals; Shaw - a natural goalscorer, Birmingham lad. Someone a little bit before my time but you hear a lot of amazing stuff about him and it's a shame his career got cut short but someone when you listen to people talk about how good he was, they reckon he was outstanding.
Then obviously I'd have to go with Benteke as well. At the minute he really drives this Villa team. Watching him play from his first game, he has everything to become a great footballer in the Premier League and worldwide and what a great effort it was from Paul Lambert to keep hold of him. It felt almost like a big, new signing when we did get him contracted but others are always going to be interested in quality players like that.
Manager: Ron Atkinson
It's a difficult decision to chose my manager but I think I have to go with Big Ron. I enjoyed watching the team under Taylor but Atkinson would have to be mine. I loved the sunglasses and just the way he went it about it, plus I've got some big characters in that team and I'd need someone to control them and I think he'd be the man to do that.