FA slams former England U21 boss Stuart Pearce for criticising players' attitudes
The FA has slammed Stuart Pearce for his decision to criticise players' attitudes towards the England Under-21s.
Last Updated: 12/09/13 11:01am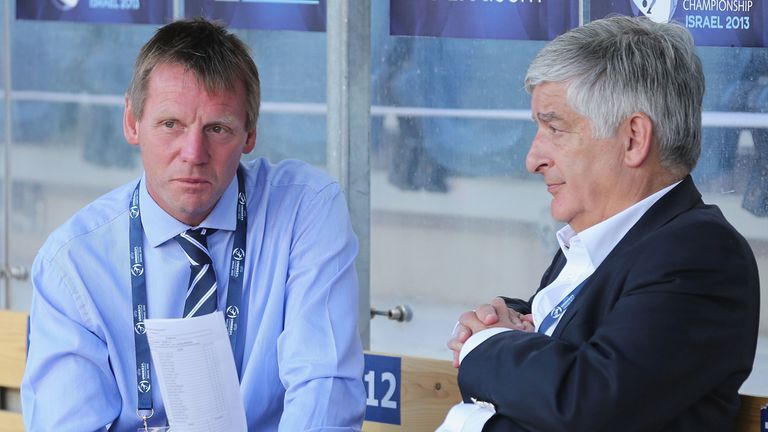 Pearce, who was dismissed as Under-21 manager after the side lost all three of their group games at the 2013 European Championship in Israel, accused players including Arsenal's Alex Oxlade-Chamberlain and Manchester United defender Phil Jones of "apathy".
But a response from the governing body read: "The FA are disappointed with the comments of Stuart Pearce with regard to squad selection this summer.
"Squads were selected for the summer tournaments and decided upon by the coaching staff, including Stuart Pearce. The players were then advised accordingly which squads they were in. It is unfair to criticise individual players.
"All selections were management decisions and were not taken by individual players."
Pearce was frustrated to be without a raft of players who had experience with the senior squad for the tournament in Israel and acknowledged he was always up against it after being forced to select an under-strength squad.
He told the Sky Sports La Liga Weekly podcast: "In our wildest dreams, do you honestly think that England or any nation in the world can turn up at a major tournament without six or seven...I think there were eight players with senior international caps that didn't actually come who could have played for the Under-21s this summer.
"The odd one was injury. Apathy played a big part in it. The Oxlade-Chamberlains of this world, the Phil Joneses... If they didn't want to come... Once they go through the golden ivory towers of the seniors, they don't want to come and play in the Under-21s any more.
"There's no nation in the world that could suffer that. However we solve that - if it's a case of stopping players going into the seniors because they don't want to step down - like the Spanish boys do, and they're happy to do so... Our boys, for whatever reason - the powers, the Premier League, the finance they get at such a young age, the lack of real passion to play for your country - no matter what... we have to solve that problem."
Pearce also expressed his disappointment at Gareth Bale for pulling out of his Great Britain Olympic squad last year and cited the example of Arsenal duo Theo Walcott and Jack Wilshere, who are England regulars, but have little tournament experience.
He added: "I think the talent pool in our country isn't very deep, that's my opinion, but the talent we have, we don't use it wisely enough.
"Look at Theo Walcott. If you look at all the tournaments he could possibly have played in between 2006 and 2013, it's been two World Cups, one European Championship at senior level, there's been an Olympic Games, there's been three Under 21s he could have played in, an Under 20 World Cup in Colombia and in Egypt as well.
"There are eight or nine tournaments, and in all of those tournaments, he's played about five or six matches at all age groups. How can that be right?
"It's the same for Jack Wilshere, one of our brightest talents. How much tournament football in main tournaments is the boy going to play?"
You can listen to the full interview here by downloading the La Liga Weekly Podcast