Brits abroad - Ian Rush
Kicking off our new Brits abroad series in which we speak to players and coaches to get the lowdown on their time overseas, Adam Bate talks to former striker Ian Rush about his move from Liverpool to Juventus.
By Adam Bate - Follow me @GhostGoal
Last Updated: 31/10/12 4:48pm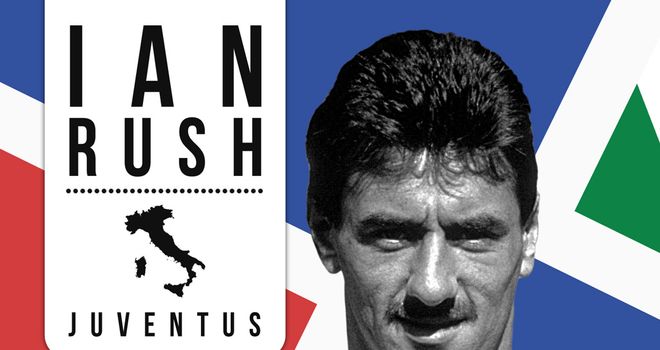 The Liverpool legend spent the 1987-88 season in Turin with Italian giants Juventus. Although the Welsh forward returned to Anfield after just one year in Serie A, he insists moving abroad was the best decision he ever made. Adam Bate caught up with him to find out more.
How did the move come about?
I'd been doing really well for Liverpool and there was lots of interest from abroad - Barcelona, Real Madrid and Juventus. But Liverpool's relationship with Juventus [after the Heysel disaster] saw me end up going there. I signed the year before I actually went there because you were only allowed two foreign players at that time in Italy. Juventus already had their quota so from that point of view I had to wait a year before I actually went there.
That must have been a strange feeling - knowing for a whole year you would be leaving for Italy?
It was a strange feeling but it's only actually when you go over there that you realise what it's all about. It's never easy to adapt and perhaps I should have done a bit more in that year before I went there to prepare. But I wanted to focus on my last year with Liverpool as I was thinking I wouldn't be coming back.
You'd won lots of trophies at Liverpool but it still must have been daunting...
I'd won everything at Liverpool but I still wanted to go and play against the best players in the world because with Wales not qualifying for the World Cup or the Euros or anything I didn't get the chance to play against the very best. And the best players were in Italy at that time. Walking into the dressing room, there was obviously a bit of a language problem early on. But I loved playing football so I had to work hard to adjust to it.
They had some fantastic players there - Antonio Cabrini, Gaetano Scirea and Michael Laudrup. How did you get on with them?
A lot of them didn't speak English, although Michael did. It took me time to learn the Italian language - it took me over two months - and that was the probably the hardest thing. It's a different culture in Italy and it took me time to adapt to that but, once I did, I got into it.
And you had some special moments out there...
I scored against Napoli. I scored the four goals against Pescara - including right-foot, left-foot and a header. And my last kick for Juventus was a penalty shoot-out [in a Uefa Cup play-off] against Torino in which I scored. That was my last competitive game for Juventus and meant they qualified for Europe and Torino didn't.
A lot of people point to the fact that you scored seven league goals, but it's worth noting that only Diego Maradona and Careca managed to find the net more than a dozen times in Serie A that year. Why was it so different?
It was very different tactically. It was much more defensive. If you went one goal up you would defend that lead, whereas at Liverpool we would try and score two or three. It was a case of 'at all costs the opposition must not score'. From that point of view it was very defensive.
If I thought I could win the ball in their half I would chase the defender down. But in Italy I'd look round and all the other players were on the halfway line. It's easier for one person to adapt than 10 people to adapt so I had to change.
So do you think it helped your game?
I became a better player at Juventus. I learned a lot about the tactics and a lot about the defensive side of it. And the training that they were doing there then is the training they do now in England - so it was at least 20 years ahead of the time.
Once I'd adjusted to that I became a much better all-round player. When I came back I didn't score as many goals second time as first time because I was in and around the box more in the early days. But when I came back I could play in midfield, I could play in different positions. Maybe I wasn't a better goalscorer but I was a better player who understood the game a lot more. You take that into the coaching side of it.
But you returned to Liverpool after that one season. How come?
There were three foreign players then and there were four of us at Juventus so one of us had to leave. I was quite happy to stay. But Giovanni Trapattoni wanted me at Inter Milan and I showed an interest in going there. Also Bayern Munich were interested in me, as well as Manchester United and Everton.
But Juventus said if you are going back then you'll only be going back to Liverpool. It was only then when Kenny Dalglish rang up and told me they wanted me back. It was a relief because with them having been successful that year I didn't think they'd want me back. When Kenny came in for me it was great to get that chance because people don't always get the chance to go back again and I was lucky enough to do that.
Would you have done anything differently in Italy if you had the chance to do it over?
If I went back again, with the culture, I would tell everyone that I was the best player in Italy - that's what they want. I think it's a lot about the first impressions.
They like people to be like that. If I said those sorts of things at Liverpool I'd be absolutely slaughtered. If I said I was the best player in the world and all that, they'd tell me at Liverpool that I couldn't do it without them because it was more of a team game.
Whereas in Italy it was more about individuals. There was the Rush of Juventus, the Maradona of Napoli or the Gullit of Milan. Looking back now I'd most probably give them a couple of sentences in Italian telling them I was the best player in the world. I'd done the opposite.
And would you recommend the experience of playing abroad?
Without doubt I would recommend the experience to any young player. People say there's an ideal age to go but I don't know really. I think I went when I was 25 and Graeme Souness went when he was 28 - maybe that's a better age because you're experienced and know what to expect - but for me it was the best thing that happened to me.
People say it was a disappointing year but it wasn't. I was top scorer for Juventus; I learned so much about football; I learned about the culture of Italy. It was the best thing I ever did.
Ian Rush was talking at one of Carlsberg's ultimate legend's experiences. Carlsberg is Official Beer of the England football team and could be bringing future events to a pub near you. To find out more go to www.carlsberg.co.uk
If there is a player you would like to see featured in our Brits abroad series, just let us know in the comments section.