Chico time
After an inauspicious start, Chico Flores has emerged as one of the stars of Swansea's season. Adam Bate looks at the statistics behind the unsung Spaniard at the Liberty Stadium and wonders whether he might be the best defender in the Premier League.
By Adam Bate - Follow me @GhostGoal
Last Updated: 08/01/13 6:31pm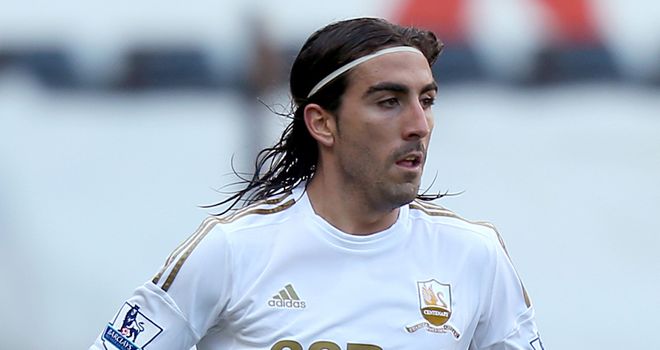 Highlights packages continue to resonate heavily with the national audience. So when Chico Flores appeared close to taking Louis Saha's head off against Sunderland and was sent off in just his third game for the club, the criticism began to flow. "Love watching Swansea - not sure about Chico though," wrote one high-profile journalist on Twitter. Another had a blunt assessment: "This Chico Flores tool has real clown potential."
By the midpoint in the Premier League season, Chico finds himself regarded as a cult figure by Swansea fans and has a strong case to be considered among the best defenders in the division.
Swans coach Michael Laudrup is not surprised. The Spaniard quickly showed his team-mates he would be unlikely to struggle with the increased intensity of the Premier League by topping the club's fitness tests in the summer. And his manager was quite clear about the player he was buying, having worked with him at Mallorca last season.
"I know Chico and I know what he can do for us," Laudrup had told the club's official website. "I think it's a very important signing. He has a lot of experience from the Spanish and Italian leagues. He can play good football, but he is also physical and aggressive. In fact, he could have been born here in Swansea rather than in the south of Spain. I think with the position the team and the club are in at the moment, it's important to bring in some experience of the highest level. He is a great signing for us."
Chico Flores- PL 2012/13
 
 
Discipline
PL Ranking
Tackles per game
13th
Clearances per game
9th
Interceptions per game
4th
Average passes per game
9th
Pass success percentage
14th

The statistics back up Laudrup's assessment. Chico has adapted quickly by showing a willingness to do the ugly stuff well. He ranks high for tackles and clearances but has also shown his intelligence by producing an impressive number of interceptions too. No other Premier League footballer features so highly in all three key defensive categories.
Then there is his impact off the field. Chico has leadership qualities and, playing alongside captain Ashley Williams, that has given Swansea a solid base. "I know Chico has always been a good pro," right-back Angel Rangel told the Western Mail in the summer. "It's important that he comes here with experience in the top flight. It's a new league for him but he is a strong lad and he's a leader. Hopefully he will add that extra quality we need at the back."
That quality was needed because of the loss of centre-back Steven Caulker. The England international returned to parent-club Tottenham after spending last season with the Swans and was expected to be sorely missed.
"I know people talk about Joe Allen - but I think Caulker was a massive rock at the back for Swansea last year," said Everton skipper Phil Neville as recently as October. "He really impressed me - [an] out-and-out defender. He was technically good on the ball, but he did like to defend. And I think out of all the players that Swansea have lost this season, maybe Caulker was the one that they probably miss more than anything."
But the statistics - not to mention the Premier League table - show that those fears were largely unfounded. Chico has outperformed Caulker in the routine defensive work as well as providing the quality of passing that has become a prerequisite for life at the Liberty Stadium.
Chico Flores v Steven Caulker
 
 
Discipline
Chico Flores 2012-13
Steven Caulker 2011-12
Tackles per game
3.2
1.3
Clearances per game
9.2
7.0
Interceptions per game
3.3
1.2
Average passes per game
60.8
61.5
Pass success percentage
90.4
87.3
Of course, it should come as little surprise that a Spanish defender can pass the ball. Especially one who spent some of his formative years working with Pep Guardiola in the Barcelona B team. "It was a wonderful education," Chico told the Daily Mail. "All the memories I have from that time playing with Pep Guardiola are really positive. Pep is very close to the players. He was and is a great, but he is very modest. He behaves as one of us. It went well for me. Pep wanted to take me to the first team but Cadiz wanted too much money. That was it."
Who knows what Chico could have achieved by now if that transfer had come to fruition. But the demands of Cadiz have proved Swansea's gain. The player was sold on to Almeria and then Genoa before linking up with Laudrup at Mallorca last season where he was a key member of the side that finished eighth in La Liga with a defensive record only bettered by the top three.
At 25-years-old there is still time for Chico to make significant improvements and perhaps iron out the rough edges that have led to those question marks over his disciplinary record. But for now, Swansea fans are enjoying him just the way he is - as statistically the strongest centre-back in the Premier League.