Turkish delight
Sky Sports meets up with Anton Ferdinand to discuss how he is settling into life in Turkey after leaving Queens Park Rangers
Last Updated: 26/04/13 1:35pm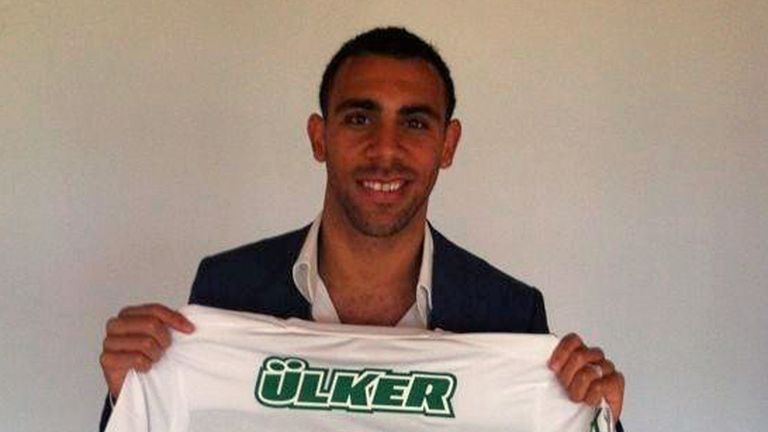 Anton Ferdinand took a step into the unknown when leaving the Premier League in January for Turkey and the centre-back is relishing his loan spell so much that he has refused to rule out a permanent move Bursaspor.
Ferdinand's switch to Bursaspor in January was one of the surprise moves of the transfer window, but the defender has no regrets over taking up the challenge to try his luck in Turkey.
The move has paid off for Ferdinand as he has been earning good reviews for Bursaspor, having swapped a relegation battle for the race to qualify for the UEFA Champions League.
"I am enjoying it, it's very different but I have got used to the culture and the way of life over here very quickly," Ferdinand told Sky Sports.
"I grew up with a lot of Turkish people so I understand their culture and the way they are as people so it's been easier for me to settle in.
"Everyone at the club has been good to me and the lads in the squad have been brilliant as well. A lot of them try to speak to English to me and I am trying to speak Turkish to them and we have interpreters here so we are all on common ground."
Challenge
Ferdinand admits the chance to move to Bursaspor came out of the blue, but that it was a challenge that excited him.
"My cousin Max, who works for my agents, asked me if I would go to Turkey and I said if a deal was there and I would be playing and there was a big team in Turkey I would definitely look at it," added Ferdinand.
"He told me about Bursaspor and I knew they were a very big team in Turkey fighting for Europa League and Champions League places and not only that Scott Carson was here and from speaking to him and him telling me how good it was over here and what the club was like it was a no-brainer for me to move.
"Some people like to think that they want to go and play abroad and things like that, but that doesn't faze me.
"If things are brought to me that I think is a challenge I want to do it and playing abroad is definitely a challenge for anyone.
"I have seen it all my career - people come from abroad to England and how difficult it is for them. I like challenges and this is no different and something I will never regret."
Ferdinand admits although there is nothing to compare to the Premier League he is enjoying adapting to a new style of football in Turkey.
"It's not as quick as the Premier League, it is very technical and more about tactics and I am enjoying it.
"There is no league like the Premier League, but I am enjoying my football and that is the main thing."
Ferdinand has impressed during his short time already in Turkey, helping Bursaspor to fourth spot in the table and well-placed for a possible top two finish.
The former West Ham man has helped Bursaspor keep clean sheets in their last three games and his form has helped him be named in the Super Lig Team of the Week for two weeks consecutively.
Form
Ferdinand is happy with his form and feels he is flourishing with his new club because he is playing with confidence.
"It took a little bit of time for me to get a run in the team because the team were winning games, but I am happy with my performances over the last three games," noted Ferdinand.
"We have got three clean sheets, which is always satisfying for a defender and the first thing you want to do as a defender is keep a clean sheet knowing you have done your job for the team.
"Football is a confidence game and to see myself in the Team of the Week for two weeks running fills me with confidence.
"Football is all about confidence because if you have got no confidence you are not going to see the best of the player and things like getting in Team of the Week give me confidence."
Ferdinand is due to return to QPR at the end of the season as he has another year to run on his contract at Loftus Road, but the former England Under 21 international would be open to the prospect of staying at Bursaspor.
"I wouldn't rule out move to Bursaspor," admitted Ferdinand.
"I am a person who just loves to play football and loves the challenge and as long as I am playing I wouldn't rule out a move to Turkey.
"I am enjoying it and if I am enjoying my football then I am enjoying my life."
Interview courtesy of New Era Global Sports