Good Week/Bad Week: Sky Sports picks out the heroes and villains from the past week of sport
Germany crowned world champions, London Broncos relegated, Justin Rose doubling up and Chris Froome crashing out; all in a week of sporting highs and lows. Now Sky Sports sifts through it all to pick the winners and losers...
By Ben Hampshire | @BH92
Last Updated: 14/07/14 1:50pm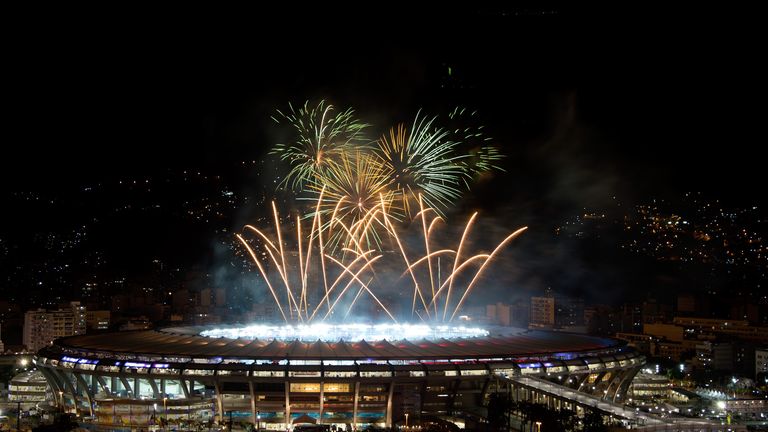 Seven days is a long time in the world of sport and the past week has offered up a gamut of emotions with exhilarating highs matched by deflating lows.
It was a week when Germany claimed a fourth FIFA World Cup by beating Argentina at Brazil's Maracana Stadium, Tony Gallopin snatched the coveted yellow jersey from Vincenzo Nibali in the Tour de France while England's men and women were victorious at hockey's London Cup.
Luiz Felipe Scolari watched his Brazil side were dismantled 7-1 by eventual winners Germany before discovering his contract may not be renewed, London Broncos were relegated from Super League, while England's first Test against India at Trent Bridge petered out in a draw in a less than thrilling conclusion.
Good Week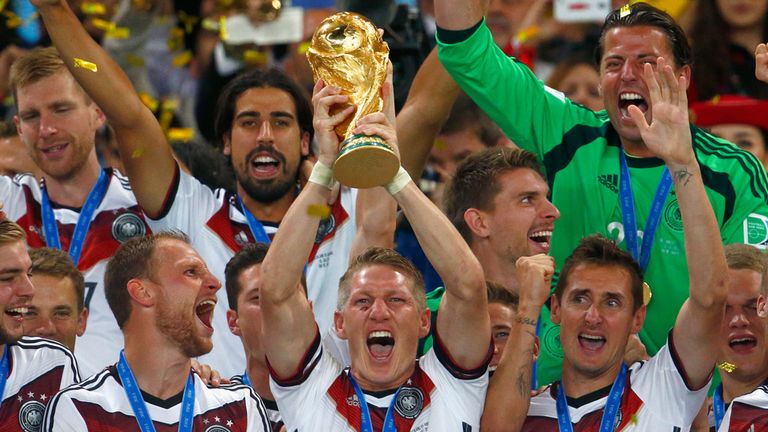 Germany
Where better to start than with the newly-crowned champions of the world? A 113th-minute goal from Mario Gotze saw Joachim Low's side draw level with Italy on four World Cup wins as they edged out Argentina in Rio de Janeiro. As 0-0 draws go, it was far from dour but was always craving a moment of individual brilliance.
Substitute Gotze, the 22-year-old Bayern Munich playmaker, obliged as he met Andre Schurrle's precision cross with his chest before turning the ball beyond the otherwise faultless Sergio Romero. While some were struggling to keep the pace after a gruelling war of attrition, the fresh-legged Gotze left the Argentinian defence in his wake to send Germany to victory.
It was an historic victory for Germany as they prevailed for the first time since the re-unification of the East and West. Pictures of Phillip Lahm holding aloft the Jules Rimet Trophy are not only symbolic of a unified nation, but also testament to the building process undertaken by Low, who fielded six graduates from Germany's 2009 European Under 21 Championship success at the Maracana.
Justin Rose
Hopes of a second major title, and a first on home soil, strengthened significantly for Justin Rose on Sunday as he lifted the Scottish Open crown in Royal Aberdeen. After picking up the Quicken Loans National title a fortnight ago, Rose stepped up his preparations for this week's Open at Hoylake.
Never before has Rose won back-to-back titles but his latest success has left the former US Open champion on course to emulate the triumphant run of Phil Mickelson. The American won at Castle Stuart 12 months ago before lifting the Claret Jug at Muirfield a week later and now Rose looks to do the same as he bids for his second major trophy.
Rose had opted to skip the event for the last two years, but the decision to follow in the footsteps of five-time major winner Mickelson is proving to be so far, so good for the Englishman. Victory in Scotland means the 33-year-old heads to Royal Liverpool as world No 3, a joint career high for the 2013 US Open winner.
James Anderson & Joe Root
There hasn't been much success for English cricket fans to celebrate of late and although their latest bid for victory ended in a stalemate, James Anderson and Joe Root ripped up the record books on Sunday. In a bid to revive England's hopes, the pair forged a record last-wicket partnership of 198 after spending almost four hours together at the crease.
The duo surpassed the previous Test 10th-wicket record of 163, made by Australia's Phil Hughes and Ashton Agar against England at Trent Bridge last year, as the home side were bowled out for 496. It was again the Nottingham crowd in for a treat as Root ended unbeaten on 154, while Anderson became England's highest scoring No 11 with 81.
Anderson also claimed the record for the longest innings by a No 11 batsman, standing three hours and 50 minutes before eventually being caught off the bowling of Bhuvneshwar Kumar. While Anderson surpassed Alastair Cook in the batting department, the England captain matched the Lancashire seamer in India's second innings with his maiden Test wicket.
English Hockey
After the deflation of below-par performances at the Hockey World Cup in The Hague earlier this year, England's men and women both bounced back to claim London Cup victories on Sunday. The women beat South Africa 2-1 to lift the crown, while the men needed penalties to overcome a resilient Ireland side.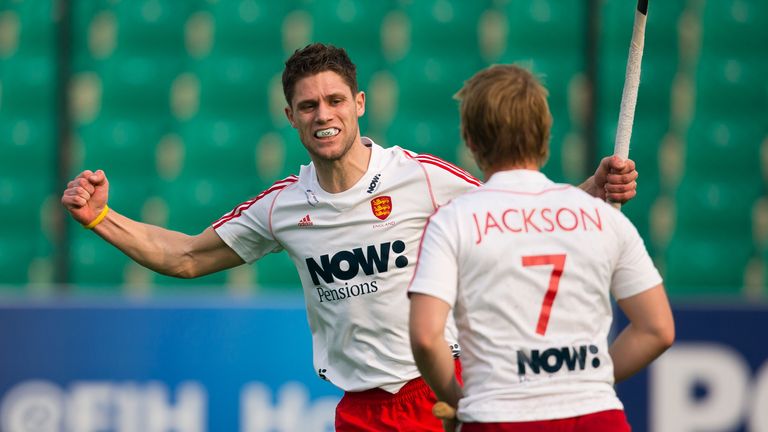 England had beaten Ireland 4-1 in their final pool game on Saturday and they looked on course for another comfortable triumph, but it was not to be plain sailing this time round with a 2-2 draw forcing a shootout. England goalkeeper George Pinner saved from Michael Watt and Eugene Magee, while Ashley Jackson, captain Barry Middleton, Harry Martin and Simon Mantell were all on target at Queen Elizabeth Park as the hosts prevailed 4-2.
In the women's competition, Nicola White gave England the lead in the first half but Jade Mayne equalised before the interval. Sam Quek netted the winner from a penalty corner with seven minutes remaining as England overcame South Africa to lift the crown at the Lee Valley Hockey and Tennis Centre.
Bad Week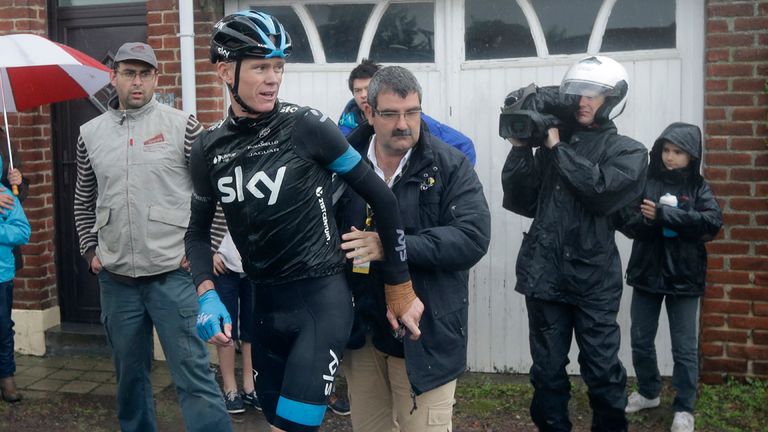 Luiz Felipe Scolari
Brazilian football fans will not want reminding of the events which unfolded on Tuesday evening. It was not as the script had intended, as the hosts were embarrassingly smashed 7-1 by Germany in the World Cup semi-finals.
Germany were 5-0 up inside half-an-hour and a second-half brace from Schurrle sent the host nation crashing out of the competition and there no consolation to be found in the third-place playoff either as Holland roared to a 3-0 victory.
A sorry display on home soil is inexcusable to the adoring Brazilian fans and reports surfaced on Monday to suggest that coach Luiz Felipe Scolari would bear the brunt of their disaster. Reports emanating from Brazil suggest the Confederation of Brazilian Football will opt not to renew Scolari's contract with the national team, leaving them to prepare for the dawning of a new era.
London Broncos
The writing has been on the wall far too long for London Broncos and their somewhat inevitable relegation from Super League was confirmed after a 20th straight defeat. In-form Warrington Wolves smashed the winless Broncos 72-12 and subsequently ended their opponents' top-flight future beyond the current campaign.
It is a result that means there will be no capital representation in the game's flagship competition next term and Australian coach Joe Grima admitted it was a dark day for the club, before conceding they must rebuild from scratch. Returning to Super League will be a tall order for the Broncos, who will now face the prospect of losing key players.
The rampant Wolves made it 10 wins in succession as they had far too much power and pace for Super League's basement dwellers, running in a total of 13 tries. Winger Joel Monaghan claimed four tries with second row forward Ben Currie and prop Chris Hill both scoring hat-tricks, with the other efforts coming from Ben Harrison, Paul Wood and Gene Ormsby. Chris Bridge landed 10 goals.
Chris Froome
The Tour de France has become somewhat of a British thing of late, what with Sir Bradley Wiggins becoming the first Briton to win cycling's most revered race and Chris Froome then usurping his compatriot to claim the title. They even brought this year's Tour to Yorkshire for a Grand Depart which earned worldwide acclaim.
British success on the Champs-Elysees looks much less likely, however, with defending champion Froome being forced to retire after fracturing his left wrist and right hand. Much had been made of the challenges posed by a cobbled fifth stage, but it was the heavy downpours which accounted for Froome in the end.
After falling the day before, Froome was again thrown from his bike in slippery conditions on Wednesday. A third blow was one too many for the Kenyan-born star, who was unable to continue and flew home to the south of France later that night to undergo medical checks at the Monaco Institute of Sport, where his fractures were confirmed.
Auckland Blues
Three-time Super Rugby champions the Blues missed out on the playoffs in the southern hemisphere's premier competition for the second time under the tutelage of Sir John Kirwan. Needing to defeat the Chiefs by 39 points at a wet and windy Eden Park on Friday night, the Blues went down 11-8 to the defending champions to finish well outside the top six.
The Blues finished with a 7-9 win-loss record with all bar one of those wins coming at Eden Park.  That poor away record meant they were always going to struggle to make the top six and learning how to win away from Auckland is going to be critical if they are to have a hope of challenging for the playoffs next season.
Inconsistency in selection and that dismal away record saw the four-time Super Rugby finalists miss out on the knockout stages and finish at the foot of the New Zealand conference. The Blues must avoid a third successive slip next term and a top-six finish will be essential if Kirwan is to retain his place as the figurehead at Eden Park.