Blend it like United
Dion Dublin toldSky Sports News HD that Manchester United's squad is perfectly-balanced.
Last Updated: 01/09/11 11:34am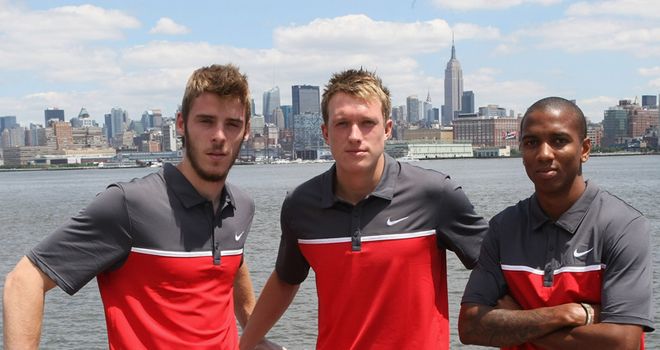 Manchester United have the perfect mix of youth and experience to defend their Premier League title after making key acquisitions during the transfer window, according to Dion Dublin.
The former Red Devils striker believes the arrivals of defender Phil Jones, 20, goalkeeper David de Gea, 20, and winger Ashley Young, 26, gives Sir Alex Ferguson's squad a fresh dimension following the retirements of Gary Neville and Paul Scholes, in February and May respectively.
"They are not weaker," Dublin told Sky Sports News HD. "People say you can't win trophies with young players but what they've got at the helm are players like Rio Ferdinand and Ryan Giggs; they are actually steering the ship at the moment.
"Then you've got players like [Tom] Cleverly, [Chris] Smalling and Jones who have just come through to the fore and they are being steered by Rio and Giggs.
"Sir Alex is the boss - he takes charge - but in the dressing room he leaves it to the seniors and the young players respond to them.
"It is great to see people like Jones and Smalling coming through and playing in the best league in the world and we need more of those players."
De Gea has endured a mixed start to his United career, saving Robin van Persie's penalty in United's 8-2 victory over Arsenal at the weekend after coming in for criticism for his performances against Manchester City, in the Community Shield, and West Brom in the Premier League.
But Dublin has no doubts that the Spaniard, signed for £18m from Atlético Madrid, will rise to the challenge.
"He's only 20-years-old. Unfortunately for him he has replaced a goalkeeper who was double his age and absolutely world-class. De Gea is potentially going to be that good," he said.
"I think it is a time issue, it is a pressure issue. Can he handle the pressure of putting the goalkeeping equivalent of the red shirt on at Manchester United every week? I think he can and I think he will."
Loss
Arsenal swelled their ranks on transfer window deadline day by signing Yossi Benayoun on loan from Chelsea and making a late, successful bid for Everton's Mikel Arteta.
However, Dublin is not optimistic about the Gunners' chances of mounting a strong title challenge following the loss of Cesc Fabregas and Samir Nasri, to Barcelona and Manchester City respectively.
"You will never make up for the loss of players of that quality unless you spend the same kind of money. Arteta is a very, very good player - he will make a difference to Arsenal, but one player can't make a team.
"I don't think he [Wenger] panicked. He had to do something; they wouldn't be his first-choice signings, I would have thought. Arteta has probably been on the radar for quite some time.
"But he had to do something about what happened on Sunday - I imagine if he watches that video back all he can see is abysmal performances by a huge football team."
Of the other last-minute moves, Dublin described Liverpool's capture of Craig Bellamy as "very shrewd" and Chelsea's swoop for Raul Meireles as "clever".
"I think Bellamy has got a lot to offer in the game," he said. "Liverpool are bringing in the right kind of player to fit Mr Dalglish's way of wanting to play. He will add massively to that squad and give more service to Carroll.
"Chelsea's squad just gets stronger - it's a star-studded array of talent. If they don't get anything this year, they are going to be in trouble so there is pressure on."