Pep up for Barca boss
Gaizka Mendieta told Revista that Pep Guardiola picked the right side for the trip to Real Sociedad.
Last Updated: 14/09/11 8:36am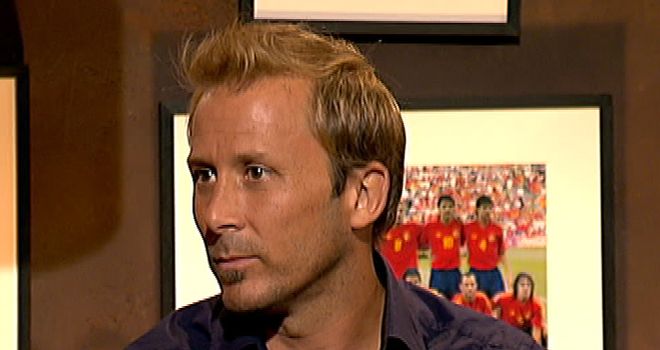 Gaizka Mendieta told Revista that he was not surprised by Barcelona's starting line-up for Real Sociedad.
The reigning champions threw away a two-goal lead as Sociedad snatched a superb and deserved 2-2 draw at the Estadio de Anoeta.
Pep Guardiola started the game with Lionel Messi and Javier Mascherano on the subs' bench after they had returned from India, where they had been with Argentina, and Mendieta said it was the normal thing to do.
"It was expected because they played international games - especially Messi who came from such a long trip after playing two games," he said.
"It has happened before where we have seen big teams resting players because they have played international games. In my opinion there was nothing surprising in that.
"It ended up 2-2 but in the first half Barcelona were playing brilliantly - they were having no problems.
"It was only in the last half an hour where the lack of concentration, lack of attention and lack of pace in the game put them into trouble."
Reaction
Guillem Balague agreed with Mendieta that Barcelona lacked concentration but says that Guardiola also made some tactical mistakes.
"He is the man who has made Barcelona better, but he is human,"he said.
"I think he made a series of selections - not so much the ones that he left on the bench, but Andreu Fontas and Sergio Busquets in central defence don't mix. They are too similar - slow, tall and not aggressive enough.
"Then Seydou Keita in the centre of midfield does not make sense - how can you build the attack with him in centre midfield? He keeps on insisting on that.
"The full-backs kept on going forward and exposing the centre backs. Pep did not react to that.
"Then there was a key moment in the second half. In four minutes they lost four balls, two of which were goals that they conceded. Again, there was no reaction from Pep."
Balague also said that while Guardiola had Messi warming up at 2-1, by that time it was too late.
"If Messi comes on with 15-20 minutes to go then you don't get the best Messi," explained Guillem.
"If you get the best Messi starting then why don't you start him? It was quite clear that the dynamics had gone wrong one hour into the game and Messi was not the solution."