The Sky Sports News experts talk Ashley Cole, Joe Root, Celtic and European golf
See what our experts have to say about Ashley Cole, Joe Root and Celtic's Champions League hopes.
Last Updated: 19/12/12 5:34pm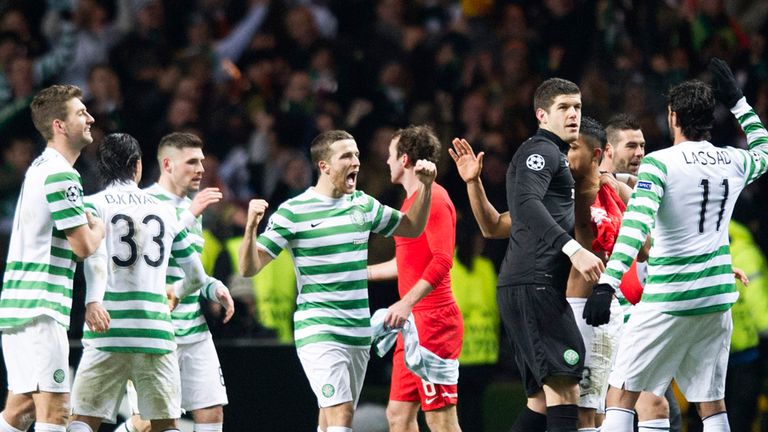 "I think Chelsea should be trying to keep Ashley Cole and Frank Lampard and I would definitely give Cole a two or three-year contract as he is the best left-back in England and perhaps the world. He is in his thirties now but who are you going to replace him with? If there is a better one then I need to be told about him because I don't know who he is."
John Hartson on who Celtic would like to get in the Champions League draw
"Celtic will fancy themselves whoever they get because they have an unbelievable record at Celtic Park and no-one will want to go there. They are full of confidence and there is no pressure on them because no-one expects them to go any further, but with a bit of luck they could find themselves in the last eight or last four. The most suitable draw would be Malaga or Schalke, but even if they get Man United, they will have nothing to fear."
Mark Butcher on whether Joe Root can thrive in the T20 format
"I think Root can play T20; his first innings in Test cricket was very much a case of get in and play the situation but we saw in the second innings when he smashed over mid-wicket he has got a weight of shot behind him that belies his slim frame. I think he might sit out this two-game series against India but, From his Test match debut, we know he can cope with pressure. The weight was on England in the fourth Test to pull of a series win, but Root walked out there as a surprise selection at number six - I certainly didn't see it coming - and played as thought he had played there all his life. At some point he will open the batting in Test cricket with Alastair Cook because he not only has the technical skill but the mental capability, too."
Click here to read more of Mark's thoughts
John Lukic on the news that five Arsenal players have penned new deals
"Arsenal have been criticised over Robin van Persie leaving and the Theo Walcott thing is dragging on - whether that gets resolved in their favour remains to be seen - but from their point of view it's great to tie Jack Wilshere, Aaron Ramsey, Alex Oxlade-Chamberlain, Kieran Gibbs and Carl Jenkinson down. In this day and age players can run down contracts and football clubs often don't get to keep their players, but these players have got long-term deals now and that's a big, big bonus for Arsene Wenger. I'd like to think Walcott will stay, too, and it will be interesting to see whether these other players signing has a bearing on his decision. The indications are that talks are on-going and there could be a resolution shortly - and I just hope that resolution is Theo deciding to stay at Arsenal."
Denis Irwin and Dion Dublin on why Sir Alex Ferguson has flourished as a manager
IRWIN: "You don't like it at times when the manager pulls you in just before kick-off and says you're not playing; that's not particularly nice. But, having been to other clubs, I think you appreciate the honesty that you get out of him and live with Sir Alex's decisions. That's why he is still at the club and still being successful."
DUBLIN: "Ferguson has brought the best coaches in and let them coach but being a manger is what he does. He can put an arm around somebody, like a teacher will a student, but, at other times, he will also give you a telling off."
Colin Montgomerie on why the top European golfers must play on home soil
"You have to encourage the European Ryder Cup players, 10 of whom are now playing in America, to play more on the European Tour. That is difficult because we are self-employed and it is hard to tell someone to play somewhere else, but we have to try, whether that be by discouraging them to play in American or encouraging them to play in Europe, to safeguard the future of our Tour."