'Time to move on'
Liverpool should accept the FA's findings and not appeal Luis Suarez's ban, Matthew Syed told the Supplement.
Last Updated: 02/01/12 8:23am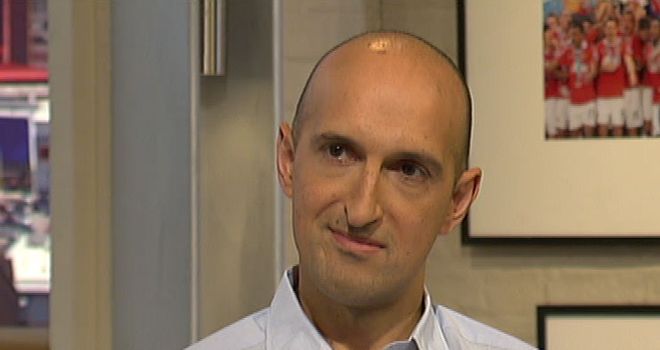 Liverpool should not appeal Luis Suarez's eight-game ban for racially abusing Patrice Evra.
That's the view of Times writer Matthew Syed who told the Supplement that the Reds should accept the Uruguayan striker's punishment after the FA released a 115-page document detailing the reasons why Suarez was charged.
Reflecting on the FA's findings, Syed said: "There is a dispute over the facts between Suarez and Evra but there is common ground and they both say Suarez used the 'key' word.
"Suarez argued in mitigation that there was a cultural linguistic nuance to its use in Spanish, the language that was used between them.
"The committee found this overwhelmingly implausible and said it was 'incredible' because in a confrontational context - and they took evidence from experts in South America - that word is never used conciliatory."
"All along I found Suarez's defence breathtakingly implausible and I was very disappointed that Liverpool said they would back their player come what may. That seemed crazy despite the tribalism that is common in football.
"It would be wise for Liverpool to accept the judgement, apologise and move on."
Evidence
Liverpool showed their support for Suarez by wearing T-shirts with his face on before their match with Wigan on December 21.
But the Independent's Sam Wallace says the Merseysiders have little chance of a successful appeal against the former Ajax man's ban because of the excellent legal work that was conducted throughout the case.
"I don't really see where Liverpool go with this," he said. "They gave it their best shot but the problem is that Suarez, under examination, let himself down in terms of his own evidence. He contradicted himself on major points.
"The really interesting point is that all along this has been portrayed as one man's word against another. The lawyers on both sides accepted that wasn't the case.
"Although Evra and Suarez's accounts formed a huge part, there was evidence from other players, Kenny Dalglish, (Liverpool's Director of Football) Damien Comolli, linguistic experts and video that has never been broadcast.
"(The FA committee) brought together all these fragments and, I think, in an incredibly difficult situation, a tightly-argued legal document."
For more on this story, hit the video at the top of the screen.