Crossing the divide
Sol Campbell says he understood the vitriol after moving from Spurs to Arsenal, but he'd do it again!
Last Updated: 25/09/11 2:39pm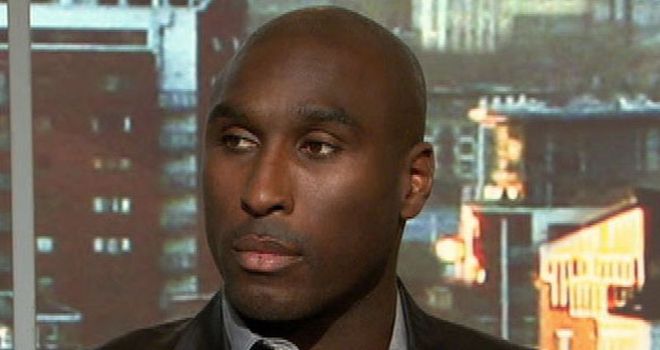 There has always been a red and white divide in north London, and Sol Campbell was caught in the middle of it in 2001 when he joined Arsenal on a free transfer from north London rivals Spurs.
The defender was treated to vitriolic abuse whenever he returned to White Hart Lane, but he told Goals on Sunday that while it was a difficult decision at the time, he has since proven it was the right move for him.
"I was under a lot of pressure then after moving over to Arsenal, but I just had to look around at the players I was surrounded by, and they were fantastic," he said.
"Did the vitriol from Spurs fans hurt me? I totally understand it. I was captain there for many years, played top football for them, and I can totally understand how they reacted. Obviously as the months and years went on it was too much; it just went over the top. You don't need to be subjected to that sort of abuse over the years for sport."
Fantastic
Having announced he was set to leave Spurs on a free transfer, Campbell attracted attention from all over Europe. But his decision was made up once he looked at the players at Arsenal's disposal.
"I had to look at the team. It was just fantastic," he admitted. "Obviously now I've been proved right, but at the time a lot of people were cross about my move. I had other clubs around Europe looking at me, and a couple of them came in, at Arsenal I would be surrounded by world class players.
"In hindsight could I have managed the move differently? No, I don't think so. Sometimes you can't explain it to anybody. I'd do it again because I might never have got the chance to be surrounded by those players again.
"Sometimes as a footballer you've got to take a chance; you never know when it's going to come around again. I won two championships, three FA Cups, and went unbeaten for a season.
"I understand it's the fans' passion but I had to look at my career, and if you balanced those teams there was no comparison. I was, at one stage, one of the best defenders in the world, and you want to be around those types of players, from the goalkeeper to the forward and also the guys on the bench.
"You ask any top player and they'll tell you the same, and they want the hierarchy to meet their idea of who they are and where they want to go as a footballer."