Levante's king Luis
In-demand Levante boss Luis Garcia told Revista some of the secrets of the club's success.
Last Updated: 18/05/11 7:19am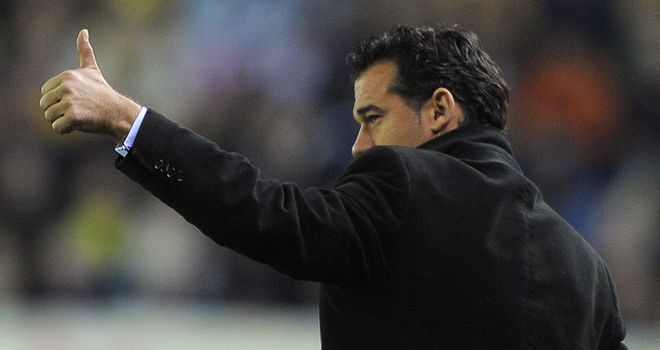 For many observers, Levante boss Luis García should be considered as La Liga's Manager of the Season
Having steered the club into the top flight - by the narrowest of margins - in only his second season in charge, the 38-year-old has managed to secure their survival with one game to go of this campaign.
That seemed like an unlikely achievement after Levante won just four of their opening 19 games, but the team has been transformed in the second half of the season, winning eight and taking 30 points from their last 18 matches.
And García reckons the club has been instilled with a fighting spirit that has existed since their difficult days in the Spanish second tier.
"We arrived three years ago at a club in total ruin," he told Revista de La Liga.
"We were short of players and there were strikes because wages hadn't been paid. However, we managed to finish eighth in a very competitive league in our first year.
"They were precarious times, we didn't know if the pitches would be ok and there was no heating in the changing rooms.
"That gave us a sense of fight, a sense of competitiveness that we have kept until now. This year we have excelled ourselves with a very limited budget.
"We finished the first game of the second half of the season with 15 points. Since then we have gained nearly two points per game, which is championship form.
"Or maybe not championship form, but we have the third highest points total in the second half of the season.
"Football is dynamic. In the first half of the season we lost games we deserved to draw, but in this half of the season similar games have swung in our favour."
Factor
García says the arrival of Felipe Caicedo, on loan from Manchester City, has been a key factor in their impressive season to date.
The Ecuadorian forward, who was on loan at Malaga last year, has scored 13 goals for the club and the Levante boss has been impressed by his progress.
"Felipe Caicedo has been a discovery for us," García continued.
"We had seen him last year at Malaga and we knew that Manchester City had invested in him, but it takes time to adjust to your surroundings.
"He came to us after half a year in Malaga so he was used to the league and its physical demands as well as Spanish culture. He has grown physically and has adapted quickly."
Continue
Levante's success has seen other clubs cast admiring glances towards the manager and he has been linked with a switch to a bigger job this summer.
The likes of Sevilla, Atletico Madrid and Valencia could all be in the hunt for a new boss, but García says he would be happy to continue his coaching education with his current employers.
He said: "I'm 38 years old and I am a kid in comparison to all these great coaches within La Liga. To be compared with them is a privilege.
"I have a year left on my contract if the club wants to keep me, which at the moment seems to be the case.
"Like a player, a coach needs to grow. If I can do that here it will be with all the happiness in the world.
"I'm at a team that has given me a great deal and I enjoy working here."