Butland targets big season
Jack Butland is keen to make a breakthrough at Birmingham this season after revealing his dedication to the club.
Last Updated: 14/08/12 7:57am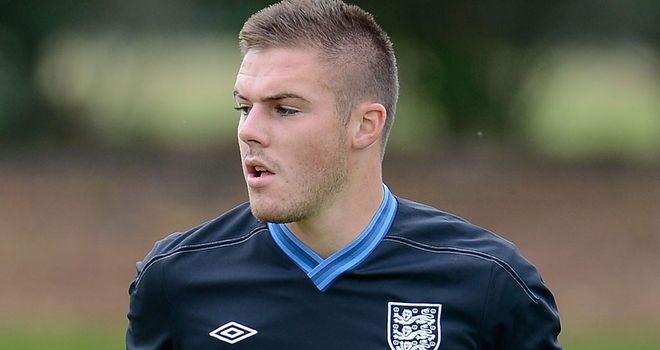 Jack Butland is keen to make a breakthrough at Birmingham this season after revealing his dedication to the club.
Butland is yet to play a single competitive game for Birmingham despite travelling to Euro 2012 with England and appearing for Team GB at the Olympic Games.
The 19-year-old goalkeeper now looks set to make his full England debut against Italy on Wednesday but his only club appearance comes from 24 games for League Two side Cheltenham Town last season.
After playing a senior game for Blues at St. Andrew's for the first time in a weekend friendly, Butland is determined to play a full season in the first-team - despite interest from Southampton.
Butland said: "I've spoken to the manager (Lee Clark) and indicated what I want to do, which is play football.
Learning
"It's going to be another big season for me to carry on learning and to get a load of games under my belt.
"That's the target for me and, if I'm fortunate enough to get that chance, I'm going to have to take it and try to play 40-plus games this season.
"People mention Southampton's interest. That's football. There's always people watching you, no matter who you are or who you're playing for.
"That's irrelevant to me because I'm a Birmingham City player. I've got to perform for them, try to stay in the team and see what happens.
"It was a nerve-racking experience for me at the weekend because I hadn't played at St. Andrew's before.
"I felt that I needed to show the Birmingham fans what I'm about because they've not seen me before. It was important to me."
Travel
Butland is in no hurry to walk away from Birmingham after working so hard as a schoolboy to make the grade at the club - travelling up from his childhood Bristol home on a regular basis.
He added: "It was a two and a half hour journey on the train, only one hour 15 minutes in the car, but it was something I didn't want to put on my mum and dad, to have to take me up and down.
"I would go to school on Monday and straight after school jump on a train for two and a half hours up to Birmingham. I would stay Monday night and train all day Tuesday with (goalkeeper coach) Dave Watson.
"I would go home after training on Tuesday, go to school on Wednesday, back up to training on Wednesday afternoon after school.
"Then I'd train all day Thursday, go home on Thursday and then get the train back up Birmingham on Friday night to play for the academy sides on a Saturday.
"I was doing up to 10-12 hours a week sitting on a train to get to training but it was something I needed to do.
"But I still passed all my GCSEs - two As, six Bs and a C."