Herrera yet to hold talks
Mexico ace Hector Herrera insists he not yet held talks about a move to England, with Manchester United and Liverpool both interested.
By Paulo Freitas
Last Updated: 23/08/12 9:20am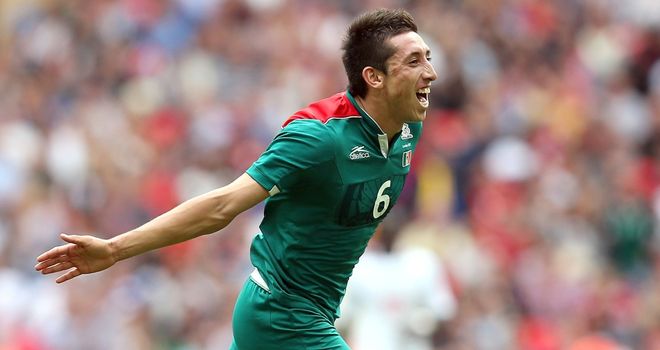 Mexico ace Hector Herrera insists he not yet held talks about a move to England.
The 22-year-old Pachuca midfielder is believed to be wanted by both Manchester United and Liverpool following an impressive display at the Olympics.
Herrera insists he is not in discussions with any club, but admits he has read about the interest and would relish the chance to move to Europe.
"The truth is that so far I know nothing about what is happening, I am not aware," he told Raza Deportiva.
No approach
"From what I've heard there has been some news, but I have had no approach from the Pachuca club president or the people from Manchester.
"If given the opportunity to emigrate to European football of course I'd go but I have wait to see what the club officials say."
Herrera has only been in Pachuca's first-team for the last 12 months and he admits to being shocked by his rapid rise.
"I did not expect it so soon, I did not expect these big clubs to be tracking me after such a short time, but this is the result of the sacrifices I have made."
Claim
Pachucha's sporting director Andres Fassi has been quoted claiming both United and Liverpool have registered their interest.
"We know he's going to emigrate to England. Manchester United and Liverpool have talked to us," he said.
"We want him to continue with Pachuca. But when he decides to leave, the club will give him the opportunity to do so."
Herrera did play down claims that he has talked with United's Javier Hernandez about moving.
"No, as I said, there wasn't any approach or any talks. And I haven't had the pleasure of getting to know Chicharito," he said.