Paul Lambert defends Aston Villa transfer moves for lower league players
Paul Lambert has defended his decision to sign lower league players and insists their hunger will help Aston Villa
Last Updated: 31/08/12 3:11pm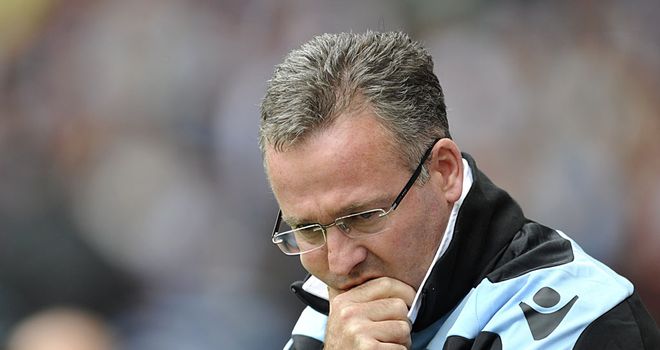 Lambert made a deadline day swoop for Chesterfield striker Jordan Bowery, having already raided the lower divisions for Sheffield United right-back Matt Lowton and Middlesbrough left-back Joe Bennett.
He is also chasing a deal for Genk striker Christian Benteke ahead of the deadline, though a move for Fulham's Clint Dempsey appears to be a non-starter.
With the Villans making a poor start to the season, losing their first two Premier League games, there was hope among the fans for some big-name deals.
But Lambert insists his lower league captures are good enough to help Villa's cause.
The Scot cites their desire to prove themselves at a higher level as a key reason why they will be a success in the Midlands.
"I know from experience if you don't have the hunger as a footballer, then there is no point in playing the game," said the former Norwich boss.
"You've got to have enthusiasm for it. If you don't have that, there is no point.
"With people from the lower leagues, you are giving people opportunities. How do you know someone is not good enough? You won't know until you give them that chance and I like to do that.
"I have total confidence in them to go and do the business. You trust them to go and do it and they are hungry to do it."
Lambert also concedes that it is his neck on the line should the moves fail and insists he will take full responsibility for their success or failure.
He has also called on the fans for patience and trust in what he is trying to achieve at Villa Park.
"It is my decision. Football decisions are mine and I will take responsibility on everything," he added.
"Hopefully the fans can trust us. We are here to try and do as well as we can for the club and to do that you have got to get players in you think can do it.
"I had the same questions at Norwich every passing transfer window about young players.
"If I think they are good enough, I will throw them in. I don't have any problem about young players.
"It is a building thing here. We have to try and build here and it will take time to get it the way we want it."