Sylvain Distin hopes to be offered a contract extension at Everton
Everton's Sylvain Distin is hoping to avoid dropping into the free agent pool next summer by earning a new contract.
By Patrick Haond
Last Updated: 03/11/12 2:14pm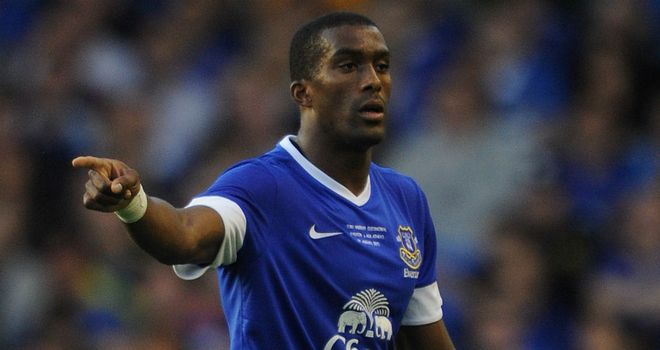 The French centre-half will see his current deal at Goodison Park expire at the end of the season.
The 34-year-old has spent the last three years on Merseyside, making more than 100 appearances for David Moyes' men.
Distin admits he would welcome the opportunity to prolong his association with Everton, but accepts he may not get his wish.
Should he be allowed to leave by the Toffees, the former Newcastle United, Manchester City and Portsmouth man has revealed he will look to find another club in England, rather than head home.
"Becoming a free agent next summer? My first choice would be to stay at Everton," Distin told L'Equipe.
"My second choice is to stay in England at a different club. It is so amazing here."
Nightmare
Distin has not always felt that way about the Premier League, though, with a loan spell at Newcastle in 2001/02 leading him to question his decision to try his luck abroad.
He said: "Why did I come to England? I came because people didn't want me at PSG and because they refused to sell me to Lens. So I joined Newcastle.
"At the back of my mind I always had it that I would return to Paris at the end of my loan.
"At first I was excited, but I quickly changed my mind. It was cold, dark at 4pm. I was alone in my hotel and could barely speak any English. The accent was difficult as well.
"It was a nightmare and after three weeks I called my father with tears in my eyes. I said I wanted to go home and that England was not for me. I have now been here for 11 years."