Roberto Martinez is confident Franco di Santo will stay at Wigan
Roberto Martinez is 'pretty confident' Franco di Santo will stay at Wigan and does not want to sell the striker.
Last Updated: 04/11/12 11:54am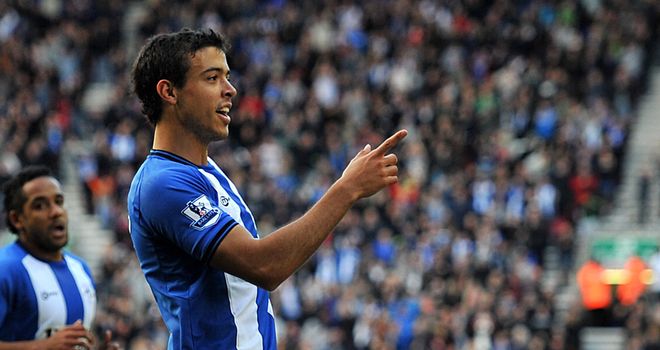 Di Santo has scored 11 goals in 72 appearances since joining Wigan from Chelsea in 2010 and is out of contract at the end of the season.
He has scored three goals in the Premier League so far this term and his progress has been rewarded with a call-up to the Argentina squad for the friendly with Saudi Arabia later this month.
There have been suggestions the 23-year-old will leave the DW Stadium on a free transfer, but Martinez remains optimistic of hanging on to the forward.
"I'm pretty confident (he will stay)," said Martinez.
"If I'm honest, we haven't even looked into it yet in detail. We have had conversations as we always have with all the players as they get into that situation but we all know what we want and what we want is to carry on with the development.
"We don't want to sell him, we want to take him to the next level."