Yaya Toure would be happy to end his playing days at Manchester City
Yaya Toure would be happy to end his playing days at Man City and remains committed to making history with the club.
By Patrick Haond
Last Updated: 05/11/12 12:48pm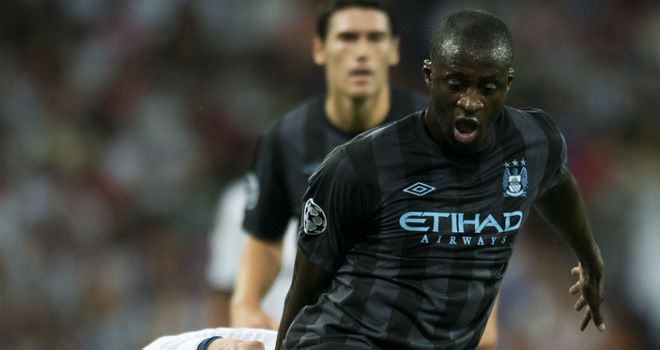 Midfielder Toure arrived at the Etihad Stadium from Barcelona in 2010 and has proven himself a valuable member of Roberto Mancini's side, helping them to the Premier League title last season and the FA Cup the year before.
The 29-year-old Ivory Coast international has poured cold water on speculation he could end his playing days in China and would be happy to see out his career in Manchester.
He said in L'Equipe. "Going to China to end my career? No! I have big desire to end my career at City out of respect for what the fans have done for me.
"But in football you can never say what will happen in the future."
Toure says he had no interest in transfer rumours linking him with Chelsea and Real Madrid in the summer as he targets more success at City.
"I don't want to be pretentious, but things have been built after I signed at City," he added. "We've won quite a lot of things.
"That is why I joined that club - to be part of its history and to go down in its history."
History
He added: "I am quite sure the day will come that I will be an old man and they will still go on talking about me here.
"Is that why I refused to talk with Real or Chelsea last summer? Yes, because City's history is to be made now. And I thank God for that."
Toure believes City have the makings of a club that can be as big as Barcelona, Real Madrid and fierce rivals Manchester United, but believes they need to find consistency, particularly in Europe after making a shaky start to their UEFA Champions League group campaign.
He said: "Is Manchester City a very great club? The club is almost considered as a very great club because we have won quite a lot of things during the last couple of years. But it is more a club for the future with a lot of young players so far.
"What are we missing to be like Manchester United or Barca? Consistent performances, being champions once more and asserting ourselves much more in England with other trophies.
"We also have to be more consistent in the Champions League. But we have a young team.
"We are not always at our top level, we have moments when we are less good, as does any club.
"We have the makings of champions (and the feeling) we could be like great clubs such as Madrid or Barcelona in the future."