Marouane Chamakh admits he is considering his future at Arsenal
Arsenal striker Marouane Chamakh has revealed he is weighing up his future at the Emirates Stadium.
By Patrick Haond
Last Updated: 06/11/12 3:53pm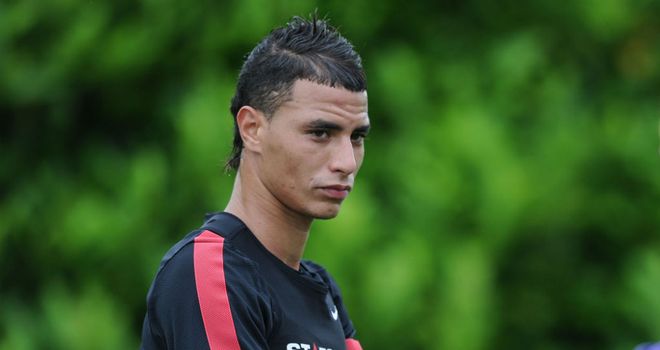 The Moroccan has admitted he is unhappy with his lack of regular action at Arsenal, feeling he may have played more following the departure of Robin van Persie.
Bordeaux have been strongly linked with a move to bring Chamakh back to the club, but the 28-year-old admits his preference is to stay in England if he does decide to leave Arsenal.
"I am still asking the question of a departure or not, weighing up the pros and cons," Chamakh told RMC.
"Bordeaux? In the summer, I didn't have any contact. During last winter, I had some. It could be a solution to come back.
"If I make the decision to come back, it would be no trouble to me, but it is too early to talk about it.
"My priority is to remain in England, but I know if I would have to come back to France, it could only be to Bordeaux."
Chamakh added: "After Robin van Persie left, I thought I'd play more. The competition is always a little hard in a club like that. I expected it. It's (up) to me to prove myself. But, in two, three months, if nothing changes, I must make a decision.
"With the departure of Robin, I'd say that I had a playing card. And if my playing time doesn't change, I'm not fooled, I'll go away."