Brendan Rodgers admits Liverpool must do all they can to keep Luis Suarez
Brendan Rodgers is delighted to have Luis Suarez at his disposal and admits Liverpool cannot afford to lose the striker.
Last Updated: 10/11/12 10:49am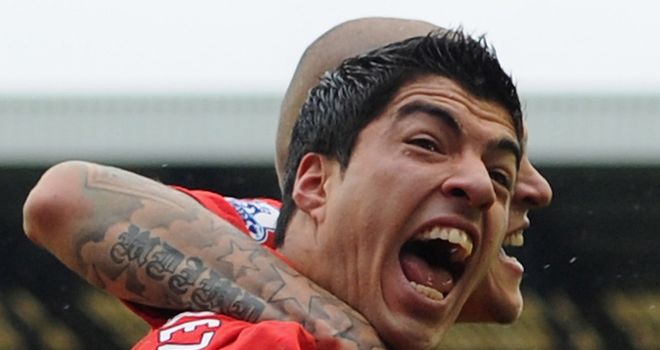 The Reds saw Fernando Torres head for the exits while at the peak of his powers, with a £50million offer from Chelsea enough to lure the Spaniard away from Anfield.
Rodgers concedes that Liverpool cannot afford to let history repeat itself when it comes to Suarez and his long-term future on Merseyside.
The Uruguayan has remained loyal to the Reds, with Rodgers aware that he could have moved on over the summer, and he is now considered to be indispensable.
"Great players will always leave great clubs, that's happened in the past and will in the future," said the Liverpool boss.
"It's up to us to add players that can help support Luis and move us on.
"I have had great support from Luis since I've been here. He has really bought into what we are trying to do and our objective has to be to keep the best players.
"I am safe in the knowledge that Luis had the chance to go in the summer. There was probably no better time for that, with a new manager coming in. Luis could have had an excuse to go but, having spoken to him at length, he committed to stay."
Relentless
Rodgers added: "He's in his most productive period. Luis has scored 10 goals so far and it took him until February last season to get to that many.
"I wouldn't swap him for anyone. This is a guy whose energy is relentless - he is a defender's nightmare.
"We have one of the best strikers in the world in Luis and we are very grateful for that.
"He's up there in that one per cent of world-class strikers and there's no team in the world that wouldn't want him."