Manager David Moyes would like to keep Phil Neville and Sylvain Distin at Everton
David Moyes would like to see Phil Neville and Sylvain Distin sign extensions to their current deals at Everton.
Last Updated: 15/11/12 12:04pm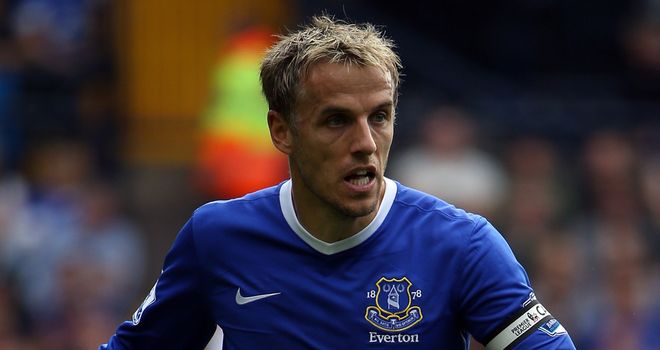 The veteran duo are due to be out of contract at the end of the season. Neville will be 36 by the time the 2012/13 comes to a close, while Distin turns 35 in December.
They are, however, considered to be key cogs in the Goodison Park machine, with their vast experience making them valuable assets.
Moyes hopes both will be offered the opportunity to prolong their stay on Merseyside, allowing them to make a decision on what their future will hold.
"We are monitoring Phil's position, but if you were asking me, I'd say let's give him another year's contract and keep it going," the Toffees boss told the Liverpool Echo.
"I'd say the same for Sylvain Distin, who is in the same position.
"With all due respect, when you get to their age, they understand most things
are on one-year deals or rolling contracts.
"Both of them have been excellent and I'd have no qualms recommending to the board that we give them another year's contract."
Moyes added: "Phil and Sylvain are both in the same boat.
"I've not really sat and had a word with the chairman yet, we'll probably do that after the new year and see if we are ready to give them a new contract."