Gabriel Agbonlahor happy to stay at Aston Villa for as long as he is wanted
Gabriel Agbonlahor says his situation is different to other players who have left Aston Villa and he has no plans to go.
Last Updated: 16/11/12 10:37am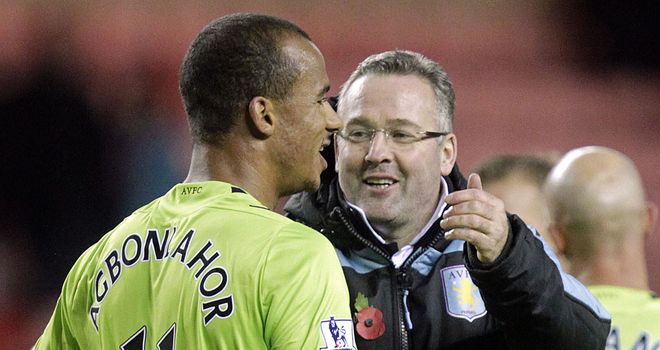 Gareth Barry and James Milner are among the high-profile names to have departed Villa over the past couple of seasons and could line up for Manchester City on Saturday against their former club.
Agbonlahor still has a lot of respect for players such as Milner who contributed so much for Villa, but maintains that he is happy in the Midlands and will not be going anywhere.
"For me, what he (Milner) did for Villa was really good and all the players that have moved on, what they did for this club was immense," Agbonlahor told The Times.
"But it's different for me. My family's here, my friends are here and while you can't read the future, if you say you want to be a one-club man, as long as Villa want me, I'll stay."
Villa are just one place above the relegation zone but Agbonlahor believes the future is bright under Paul Lambert after a positive performance in last weekend's 3-2 defeat against Manchester United.
He said: "If people look at the league table, they could be forgiven for doubting us. But if you look at the ins and outs, everyone here at the club knew it was going to be a period of gradual progression, that it was going to take time with a young squad like this, with new players looking to gel together.
"I think we're doing that. Look at the Man Utd game: I know they had their chances but if you look at the whole game, we gave them a good go, we didn't roll over."
Agbonlahor feels Villa will benefit from the fierce competition for places which exists at the current time, with Darren Bent struggling to establish himself as a regular starter.
"That just goes to show that is doesn't matter who you are, the gaffer's going to pick a team that he thinks is going to win a particular game," Agbonlahor explained.
"It doesn't matter whether you're earning this much, or cost that much, it's going to be about who the gaffer thinks is going to win the game."