Arsenal boss Arsene Wenger insists Theo Walcott is going nowhere in January
Arsenal manager Arsene Wenger has declared that Theo Walcott will not be sold in the January transfer window.
Last Updated: 19/11/12 10:10am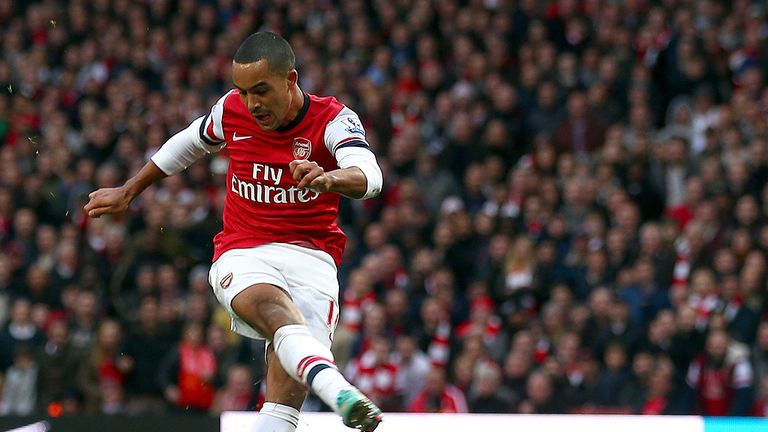 Wenger ruled out any prospect of cashing in on Walcott in the new year if the deadlock over the 23-year-old's contract talks was not broken before the end of next month.
Arsenal appeared to come close to entertaining bids for Walcott when negotiations over a new deal - to replace the one that expires next summer - stalled during the last transfer window.
And despite having previously set a deadline of the end of 2012 for an agreement to be reached, Wenger insisted after Saturday's 5-2 north London derby thrashing of Tottenham that Walcott was going nowhere in January.
Asked if the winger would be sold if the impasse continued into 2013, Wenger said simply: "No."
Pressed on whether Walcott would see out the season at Arsenal come what may, he replied: "Yes."
Asked if talks were closer to bearing fruit, he joked: "If I listen to you then every day it gets more expensive.
"We continue in a positive way. I told you many times we have until the end of December to sort this out."
Jack Wilshere, Walcott's team-mate for both club and country, does not want to see another big name player quit the Emirates Stadium.
"He is an English lad and great to have around the dressing room," the midfielder said.
"But that is up to him, the boss and the board. They are going to do whatever they are going to do. I hope he signs.
"We all know what Theo brings to the team. He has got pace, he can go behind and his movement and timing of the runs is probably the best around.
"He play anywhere - up front, right, left, central.
"He wants to play down the middle, so I think he will get his chance - he will just have to be patient."