Everton midfielder Marouane Fellaini says he is staying at Goodison Park
Everton midfielder Marouane Fellaini has ruled out an exit from Goodison Park.
Last Updated: 09/12/12 6:12pm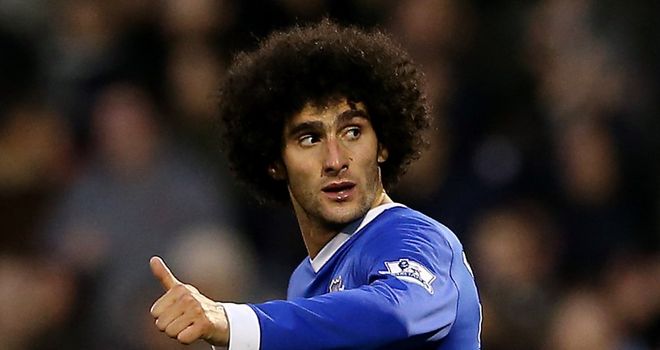 Speculation has intensified in the build-up to the transfer window over his future, particularly on the back of a five-goal haul in five games.
A total of eight in the current campaign could be added to in Sunday afternoon's home clash with Tottenham.
The news will be a huge boost to the Toffees faithful and Fellaini, whose contract expires in 2016, said: "My head is exclusively with Everton - I'm saying nothing about all the rumours.
"Although I'm happy to be praised for my performances, my future is with Everton. I'm on a good run and I want that to continue against Spurs.
"We are playing well enough to fight for a European place, even the Champions League, but we must retain this rhythm all season. It won't be easy but we want to do it.
"Our fans deserve to have some more big European nights. I am pleased with my current form. There's no secret to it - it's a combination of luck, work and good positioning in the penalty area.
"I do what the forwards do....and score goals!"
With Everton in seventh spot in the Premier League and only three points off the Champions League spots, team-mate Steven Pienaar is convinced Fellaini won't be going anywhere.
"He's enjoying his game and is clever enough not to go. There's a lot of speculation but he's still contracted to the club," the South African said.
More importantly, when asked if he would ever cut his mopped hair, Fellaini added: "I'm not thinking about changing my style for years.
"I get many letters from fans asking about my hair and requests about how they should care for their own hair."