Manchester City boss Roberto Mancini insists Mario Balotelli is not for sale
Manchester City boss Roberto Mancini insists he has no plans to sell maverick forward Mario Balotelli.
By Simone Bargellini
Last Updated: 11/12/12 11:40am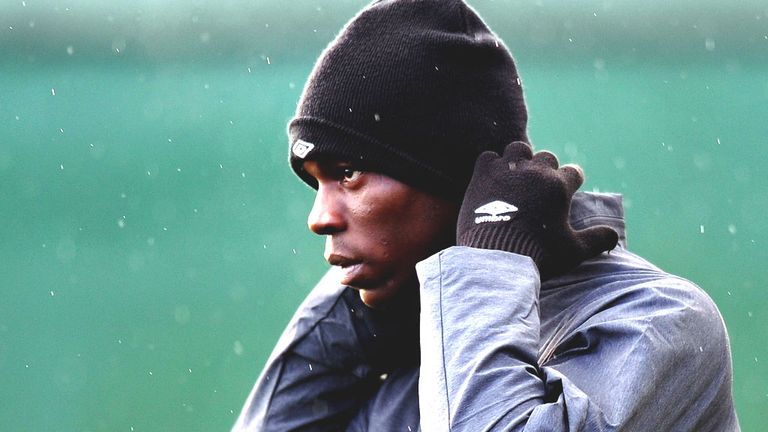 The striker was substituted in the early stages of the second half in City's 3-2 derby defeat to Manchester United on Sunday, sparking criticism from his manager.
Mancini accused Balotelli of wasting his talent and stressed that these performances could not continue, leading to reports that the former Inter Milan man's time in Manchester was up.
But the Etihad boss has moved to calm speculation by highlighting the player's quality and confirming the Italy international will not be transferred.
"Balotelli is not for sale," Mancini told Sky Sport Italia.
"Mario is a City player, he is loved by the fans and the management. He has been an important player for us.
"A player of his quality should think exclusively to his work and his family, he has talent and he cannot blow it as he is doing.
"Our paths may separate if I change team, but he will remain at City."
Serious
Meanwhile, Mancini says he is also not planning to leave the Etihad Stadium but admitted to missing life in his homeland.
"I'm fine at City," said the Italian. "I work in a very serious club and in England it is easier to work. There is a project and we have done a great job in two years.
"I feel really good, but it is clear that I miss Italy because home is always missing."
Asked about the prospect of coaching the Italy national team, he added: "It is still early and [Cesare] Prandelli is doing well."
Speculation
Mancini also dismissed speculation linking City with a move for midfield duo Daniele De Rossi of Roma and Wesley Sneijder of Inter.
Asked about De Rossi, he said: "We tried to get him in the summer, but it ended there. I think that he now remains at Roma. I do not think he will leave."
Regarding a possible move for Sneijder, Mancini added: "We have never contacted him. Wesley has great quality, but we have other players in that role, like [Samir] Nasri and [David] Silva."
But the City boss was more forthcoming when asked about AC Milan forward Stephan El Shaarawy, the current top goalscorer in Serie A.
"I really like El Shaarawy," said Mancini.
"He is really good player who has seen an incredible improvement. He can become a great champion. Will he be coming to City? No, he's at Milan."
Don't miss any live and exclusive football coverage this festive season. Click here to visit Sky Sports' Festive Calendar