Celtic reject second bid from Norwich City for star striker Gary Hooper
Celtic manager Neil Lennon has confirmed his club have rejected a second bid from Norwich City for striker Gary Hooper.
Last Updated: 23/01/13 10:54am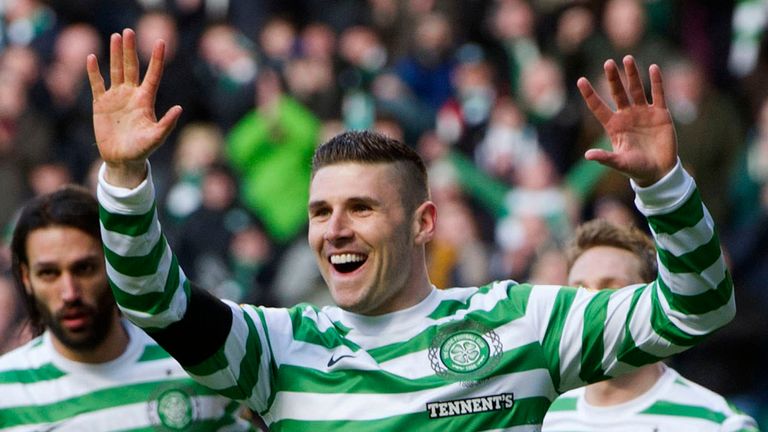 The Canaries' initial bid last Thursday, reported to be in the region of £5million, was rebuffed by the Scottish champions and their new slightly increased offer has also been dismissed.
Lennon said: "We have had an improved offer, if you want to call it an improved offer, from Norwich that's been turned down automatically.
"It was nowhere near six million. It was completely rejected and even if it was six million it would be completely rejected."
Hooper has regularly been linked with a move to the Premier League thanks to his goal-scoring exploits at Parkhead since his arrival from Scunthorpe in 2010 - he has scored 22 goals this season after his double against Dundee United - and believes playing in England would boost his international chances.
The 24-year-old, whose contract expires in the summer of 2014, has been in talks over an extension to his current deal, but has rejected an offer which has been on the table since October.
Lennon said: "It's not the latest offer because we made it two or three months ago.
"I'm disappointed again that these things have come out in public. I'm not too sure where they are coming from but it's certainly not us.
"It's as you were. He didn't like the look of the contract two or three months ago and nothing has changed.
"We feel it's a very good offer. It would put him in the top two or three highest-paid players at the club. I'm sure he wants to be the highest paid but you can't always get what you want."
Lennon claims he cannot see chief executive Peter Lawwell and the board cashing in on the 24-year-old this month.
"Not as far as I can see it," Lennon said. "We are very solid on that, myself, the backroom staff, Peter and the board."
Lennon added: "Come February 1, the contract offer will be withdrawn.
"They have got a lot to think about, Gary and his representatives.
"If he doesn't want to sign the contract, that's his decision. It wouldn't be my advice, but it's Gary's decision, or his representative's decision. We are quite comfortable with that and we respect that.
"We made this offer in October and all of a sudden it has been rejected. It's no coincidence that it's the last 10 days of the (transfer) window, but we are quite comfortable with the whole situation.
"I'm pretty sure Gary will be a Celtic player come February 1. We have had private chats and he is really happy here. He wants to stay, he wants to see out the season, and we will have a look at the situation then."