Xavi believes Victor Valdes will be allowed to make a dignified exit from Barcelona
Barcelona midfielder Xavi believes goalkeeper Victor Valdes will be allowed to make a dignified exit from the Nou Camp.
Last Updated: 25/01/13 4:05pm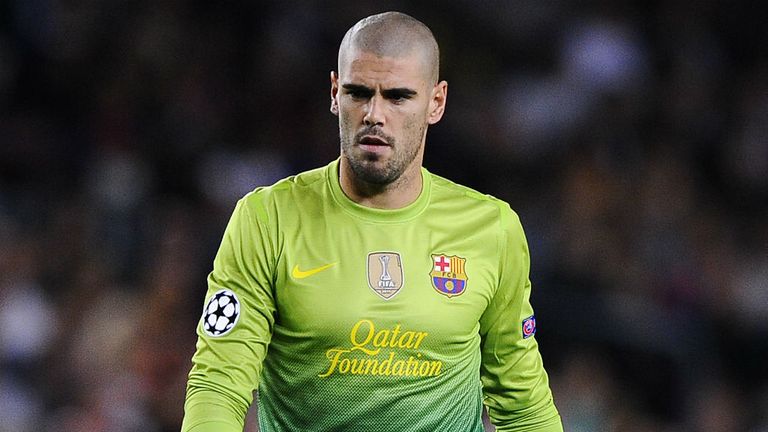 Valdes, who has for a decade been established as Barcelona's number one, last week told the club he would not renew his existing deal which runs to the end of next season.
The 31-year-old has been linked with Bayern Munich, where former Barca coach Pep Guardiola will make his return to the game in the summer, as well as English Premier League clubs.
Xavi will regret the departure of his long-time team-mate, whether it comes at the end of his contract or before, but hopes he is afforded a smooth exit.
"You have to respect him," Xavi said, according to his club's website. "He's an extraordinary person in the dressing room. He's an example for us, on and off the field.
"His is a decision which has been thought out and agreed. The fans are with him. He is the best goalkeeper in the history of Barca."
While Valdes considers his next step, Xavi is poised to tie up a new contract at Barcelona.
"I'd like to keep playing for many more years. It depends on the body," he said. "On Monday I'll sign for the three years that the club have offered me and I'm very happy. Then we'll see when the body lasts until. At the moment, the way we play favours me."
Xavi expressed sympathy for Real Madrid and Spain goalkeeper Iker Casillas after his international colleague broke a bone in his hand during Wednesday's cup match against Valencia.
Casillas could be out of the game for several months, and despite the rivalry between Barcelona and Real, Xavi was disheartened to learn the news.
"I'm sorry about his injury," he said. "He's the soul of the team. He will be a big loss for Real Madrid and for the Spanish national team."
Barcelona have played down concerns over Lionel Messi's fitness after the Argentinian was substituted due to injury in the Copa del Rey win over Malaga.
Messi scored Barcelona's fourth goal in a 4-2 away win that carried the Catalans through to the semi-finals 6-4 on aggregate.
He was substituted two minutes later, in the 82nd minute, but Barcelona stress he is not carrying a significant injury.
Assistant head coach Jordi Roura said: "We brought Messi off the pitch as a preventative measure. The adductor in his right leg was giving him problems. It's nothing serious."
Real Madrid await Barcelona in the last four, and Gerard Pique, who became a father this week before scoring against Malaga, is relishing that semi-final tussle.
The first leg takes place in Madrid next Wednesday, with the return at the Nou Camp four weeks later. Madrid are expected to be without Casillas for both games.
Pique said: "It's exciting because it's a cup semi-final and because if you win you go on to the final.
"It's one of the most attractive matches of the year and we have been lucky enough to play it these past couple of years. First we have to play against Madrid, they will still be dangerous even though they will be missing important players."
Barcelona play Osasuna in the Primera Division on Sunday.