Newcastle defender Fabricio Coloccini pledges to keep giving 100 per cent
Fabricio Coloccini insists his commitment to Newcastle United will be total for the remainder of the season.
Last Updated: 29/01/13 12:12pm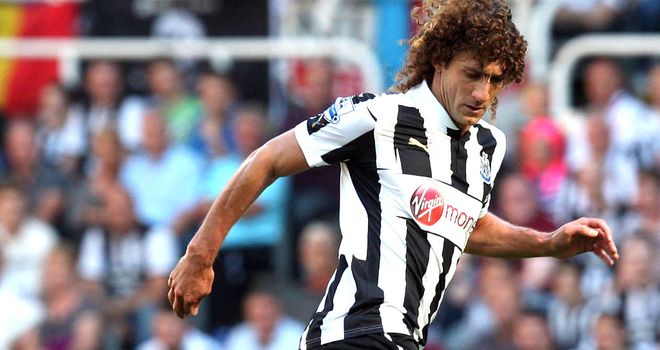 The Argentinian defender's future has been the subject of intense scrutiny in recent days but he is determined to repay the supporters' faith, beginning at Villa Park on Tuesday night.
"The last few weeks there has been a lot of talk about my future," he told the club website. "But I am staying here. And of course I will give 100 per cent like I always do.
"I have been here five years and Newcastle has given me a lot and done a lot for me. I have to be true to the club. I will give 100 per cent.
"I love football and once I am on the pitch it is different. The problems I have are outside the pitch."
A letter published by San Lorenzo claiming that Coloccini felt 'sad' not to be returning to Argentina has led some supporters to have doubts, but he maintains he is fully focused.
He said: "I heard in the city and around the club that the fans think I have my head elsewhere thinking about other things, or that I am not the same player as last season.
"The fans have to know and be sure that when I am on the field I give 100 per cent. I am the captain of the team and I take the responsibility.
"I think everybody has problems outside of their work in life. It is difficult but now I am here and all I have in my head is to make sure we are in the Premier League next year. That is my only objective.
"I am alone here with my family. We don't have grandparents here or uncles and aunties. It does make it difficult. Not for me personally, because I come to work every day, but for my kids and wife.
"Here though, the club and the fans are my family at the moment. The love that they give to me with my song and on the pitch for me is fantastic. It's the best present they can give me."
To find out more about live football on Sky sports, Click here