Reading owner Anton Zingarevich feels club are in decent shape
Reading owner Anton Zingarevich believes the club are in decent shape despite enduring a quiet January transfer window.
Last Updated: 06/02/13 12:56pm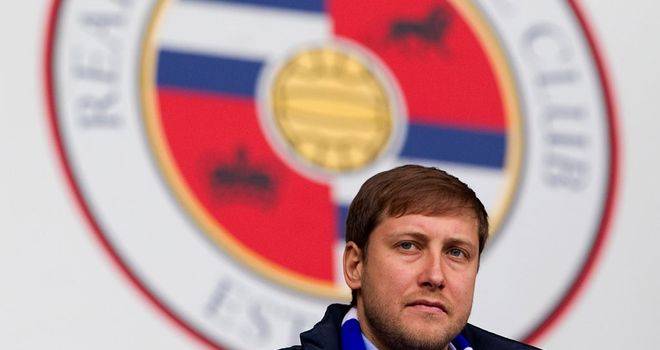 Zingarevich was welcomed to the Madejski Stadium with open arms, with it understood that he possessed the finances required to help guide the club forward.
He has been able to help them into the Premier League, but has refused to bankroll an elaborate top-flight spending spree.
It was felt that a number of additions needed to be made to Brian McDermott's squad over the winter, but Zingarevich feels survival is possible with those already on the club's books.
"We could have probably done more, you can always spend more money," he admitted in the Reading Post.
"Spending money is easy. We wanted to achieve something, which was to make the squad competitive and make sure that it was getting us over the line.
"The psychology doesn't change. We could have bought big, big players, but that doesn't ensure you success, like you see with other teams.
"What we wanted to do was to protect what we have and make sure that we progress. Maybe we could have done better, maybe it was a mistake. But we are in a better position right now. In terms of January we tried to sign some really good players, but January is difficult.
"We have added to the group, but people complain that we haven't spent enough money or about getting Hope Akpan. But you saw against Chelsea that he produced. We know what we need to do in terms of progressing as a team."
Scouting
While Zingarevich kept a close eye on his finances during the recent window, he has revealed that recruitment plans are already being drawn up for the summer.
He added: "The difficulty last summer was that we didn't have a big scouting budget over the last year when we were in the Championship. We knew the players, but we didn't want to make a mistake. We stuck to what we knew and we could have done more, but there is no point looking back.
"We have done a lot of scouting over the past few months and we know pretty much every single player in Europe. So come the summer, it is much easier.
"It is easier for players to adapt as well as they have the whole pre-season in front of them. In the summer we can have a little bit more risk than in January."