Andriy Shevchenko is considering a return to playing with Indonesia's Mitra Kukar
Indonesia's Mitra Kukar are set to offer Andriy Shevchenko a mega deal to come out of retirement for a 10-game stint.
By Edwin Chong
Last Updated: 12/02/13 1:28pm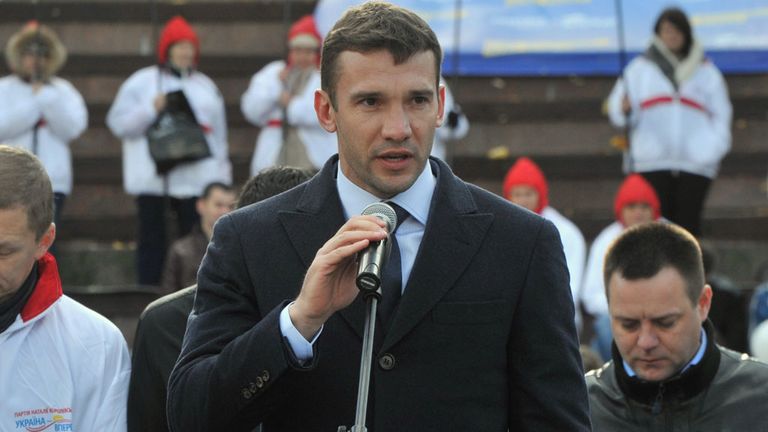 The 36 year-old was recently in Jakarta for a friendly between an AC Milan team of Rossoneri legends and an Indonesian All Stars XI, where he scored once in the 4-2 win.
Cashed-up Mitra Kukar are willing to pay the former Ukraine captain £66,500 per game and negotiations are believed to be ongoing.
"Obviously we're interested in Shevchenko, but we have to continue to discuss this question, particularly the financial aspects," club manager Roni Fauzan told the Indonesian press.
"Andriy has made clear that he is not against joining Mitra Kukar, but at the moment we don't know how much he'll be able to play.
"We'd like to invite Andriy for 10 games, but he apparently is happy to play no more than five times.
"If we do sign Sheva he'll only be able to play in the second half (of the championship) as the period for registering new players is closed.
"But to start with we have to discuss the budget for transfers with members of the club's board."
Shevchenko began his career at Dynamo Kiev before making a name for himself at AC Milan.
He signed for Chelsea for a fee of £30.8million in 2006 but struggled during his stay at Stamford Bridge, which included a loan spell at former club Milan.
In the summer of 2009, he returned to Dynamo Kiev before officially retiring following Ukraine's elimination from Euro 2012 at the hands of England.